When you choose to expand your business to European countries, the journey can be exhilarating and lead to explosive company growth. US and UK companies have the opportunity to grow their name recognition, reputation, and reach, and the sky's the limit.
However, if you aren't well-versed in the country's economy, culture, employment regulations and labor laws, the road to expansion can become full of obstacles that hinder your corporate growth.
The right HR (Human Resources) professionals can help you build a strong foundation for your expanded operations. Whether you run a small, medium-sized, or large business, HR outsourcing in Sweden may be the best option for US and UK companies.
What you need to know about HR outsourcing in Sweden
HR outsourcing to the right professionals should allow you to focus on your mission and goal progression without having to stress over the small stuff. You can trust that you have a team in place that understands the nuances of HR in Sweden.
Europe HR Solutions can guide you through the implementation of employee benefits, employee training, talent acquisition, and other vital aspects of HR. Let's take a look at HR outsourcing and the benefits of doing business in Sweden.
Why US and UK companies should expand to Sweden
Europe HR Solutions can meet your HR outsourcing needs
The role of HR and labor laws in Sweden
Benefits of doing business in Sweden for US and UK companies
Contact Europe HR Solutions
Why US and UK companies should expand to Sweden
Sweden is heralded for its innovative and technology-driven culture, and is a popular destination for startups. The nation's appeal for corporations stems from its leadership reputation in global affairs, declining tax rates, universal health care and college education, and commitment to humanitarianism.
In 2023, U.S. News & World Report ranked Sweden as the number one country for quality of life and the overall third best country in the world.
Other reasons Sweden may be the best destination for your US and UK company expansion include the country's:
Political stability
Extremely efficient infrastructure
Commitment to innovation and eco-friendly solutions
HIghly-skilled and educated workforce
Export-dependent, stable economy
Research and development contributions to the GDP
Excellent macroeconomics
Europe HR Solutions can meet your HR outsourcing needs
HR outsourcing can prove to be a wise investment for US and UK companies looking to expand into Sweden. By outsourcing your HR rather than slowly building an inhouse team, you can save time and money. 
The professionals of Europe HR Solutions are already well-versed in Sweden's employment regulations and labor laws, and our knowledge of Swedish culture can help you to seamlessly assimilate. 
Even if you're building an entirely remote, international team to run your daily operations, you'll need to ensure your company is in compliance with Swedish laws.
If you choose to contract with Europe HR Solutions, we can take care of all of your HR needs, including:
Handle talent acquisition:
Sweden's tech professionals are considered among the world's best, and the Swedish workforce is highly educated. We can help you develop strategies to attract the best talent to fill your staffing needs.
Oversee the interview process:
We can curate a list of the best applicants and work alongside you to ensure the interview process will help you to select the right employees to build your company team in Sweden.
Develop and implement HR strategies:
Your company's workplace culture can be transformed by both excellent and terrible HR practices. We can help develop and implement innovative HR solutions that allow your company to build a healthy and thriving culture that attracts loyal employees and helps you to retain talent. 
Although your US or UK company may excel in your home country, subtle shifts in workplace culture may be important in order to ensure your success in Sweden.
Create and manage employee training programs:
We can help you build any necessary inhouse employee and management training programs to ensure you have competent team members who work with excellence. We'll also include any federally mandated training programs.
Provide knowledge and promote labor law compliance:
We will ensure that your company's operations are in compliance with the intricate labor laws in place in Sweden. 
Employee contracts are considered legally valid, even without written agreement: We'll develop a standard agreement that protects both you and your employees. 
It's also important to know that almost 70% of Sweden's workers belong to trade unions. These unions may have their own regulations in place, and we'll share and help you to follow their mandates.
Create onboarding and offboarding checklists:
Both onboarding and offboarding employee processes can be pivotal to your company's success in Sweden. We can help you create a standard checklist (including exit interviews) to follow to make these transitions smooth and legally safe.
Develop and implement standard policies and procedures:
Adherence to detailed policies and procedures can help foster a productive workforce. We can develop your policies and procedures in Sweden based on your company's vision and mission statement, and help you to implement these codes of conduct in your Swedish operations.
The role of HR and labor laws in Sweden
The role of HR professionals in Sweden highlight some of the same tasks as in the US and UK. Standard HR procedures like benefits implementation, policies and procedure adherence, and payroll are important in Sweden, too.
However, there are nuances in Sweden's labor laws that you should be aware of before you launch any large, medium-sized, or even small company expansion. Sweden's culture promotes an extremely healthy work-life balance not always found in US or UK operations.
Here are some key points you should know about Sweden's labor laws:
In keeping with the country's intentional focus on work-life balance, Swedish parents (both mothers and fathers) are given up to 480 days paid paternal leave — 240 days per parent — after births or adoptions.
Fixed-term employment contracts:
Fixed-term contracts are permitted, but must have valid reasoning. For example, a temporary assignment or freelance, project-based work could create the need for a fixed-term contract.
Paid sick leave for parents:
If a worker must take time off to care for a sick child, they can apply to receive pay from the Swedish Social Insurance Agency. However, an employer is not responsible for this payment.
Per the Swedish Annual Leave Act, employers are required to give workers at least 25 days of annual paid leave.
In order to end an employment contract early and terminate an employee in Sweden, you must present the termination in writing and it must be provably justified. 
Employees are protected from vague or invalid termination under Swedish law.
Like its Scandinavian neighbors in Denmark, Sweden promotes family life and continues to implement changes to its labor laws (such as joint parental leave) to improve the work-life balance of its workforce.
Although minimum wage standards may be set in various professions, there is no nationally mandated minimum wage in Sweden.
Including widely recognized international holidays such as Christmas, New Year's Day, and Easter, Sweden has thirteen paid public holidays.
Benefits of doing business in Sweden for US and UK companies
Along with a thriving economy and rich culture, Sweden offers many professional benefits for US and UK companies. The work-life balance in Sweden could also help promote a healthier, more productive workforce.
Some of the professional benefits of business expansion in Sweden include:
Government investment in sectors such as biotechnology
Contact Europe HR Solutions
HR outsourcing in Sweden for US and UK companies can be a key ingredient for successful business expansion. If you're ready to forge new ground and expand your company throughout the European Union, Europe HR Solutions can help. 
We understand the work culture and labor laws in Sweden and can help create innovative HR solutions to help you realize your professional dreams. We also understand the nuances of Swedish culture and we are passionate about helping US and UK companies to thrive in Sweden. 
We know that you need to focus on the big picture of your company's growth, and can take care of your day-to-day details and staffing needs to help bring your dreams to fruition. 
Our HR team is used to high-paced environments and can take care of ad-hoc requests in a timely manner. We can also implement your policies and procedures in compliance with Swedish regulations and help you to foster a healthy, positive, and productive work environment.
Contact us for an initial consultation to discuss how Europe HR Solutions can meet your HR outsourcing needs, and be sure to check out our blog for the latest European HR insights and tips.
HR Brochure
Download our brochure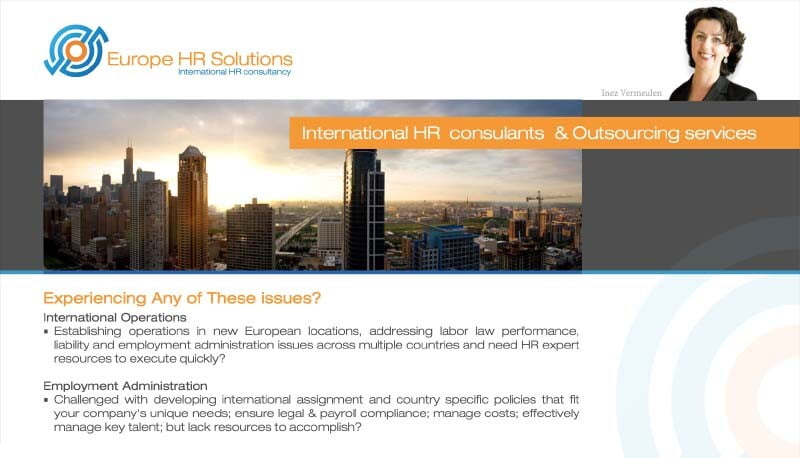 Our Brochure
Learn more about the services offered by Europe HR Solutions.