Thanks to its highly complex infrastructure and its position as the 6th largest economy in Europe, the Netherlands is an excellent target location for business expansion from the US and UK. 
Even though the prospect of expanding into the EU via the Netherlands is exciting, it is also a bit daunting. One of the biggest challenges to your expansion, of course, is navigating the complexities of HR requirements in the Netherlands and the EU. 
The solution to these challenges is HR outsourcing. 
Europe HR Solutions offers the tools and resources you need to manage everything from international recruiting and onboarding to payroll and compliance, plus more. We make your expansion into the Netherlands easier and faster.
What HR Outsourcing in the Netherlands Can Do
Our experienced team of HR professionals can take on as many or as few tasks as you want us to. We offer everything from ongoing, comprehensive HR management to short-term, project-based support. 
Here is a substantial – but not exhaustive! – list of HR responsibilities that can be outsourced to us.
HR compliance & legal guidance
An essential part of any expansion is abiding by local and international laws that govern HR policies and procedures. We can help you with compliance issues, including:
Full compliance with EU and Dutch labor laws
Reduced risk of fines
Creation of employment contracts that are aligned with both Dutch and EU laws
Talent acquisition & recruitment
It is always challenging to find top-tier talent, but it is especially difficult when you are first expanding into a new region. We can handle your talent acquisition by:
Finding the best candidates for open positions in the Netherlands
Having a strong understanding of the Dutch job market
Using a multilingual approach to recruitment and hiring
Onboarding & offboarding employees
We can help with both onboarding and offboarding in the Netherlands, two processes that require deep cultural understanding and legal knowledge. This includes:
Streamlining onboarding procedures
Automating certain steps to reduce the time spent onboarding new employees
Providing proper documentation to Dutch and EU authorities
Ensuring that your exit procedures are aligned with legal mandates
Payroll processing & benefits administration
As your HR experts, we can handle all of the complexities of both payroll and benefits. We manage:
Processing payroll in compliance with Dutch law
Ensuring timely payments to employees
Enrolling employees in benefits plans
Communication with local Dutch benefits providers
Employee performance management
You don't have to oversee your employees' performance from a distance when you outsource the task to our HR team. Our performance management methods include:
Implementing a performance appraisal system that matches Dutch workplace culture
Creating performance objectives that are motivating to your employees in the Netherlands
Generating meaningful assessments and feedback
Employee training & professional development
Our HR team offers training and development to strengthen your employees' performance and provide meaningful opportunities for professional growth. Our role involves:
Identifying gaps in your current training protocols
Tailoring all training programs to the specific needs of your Dutch employees
Developing programs that enhance specific essential skills in your industry
Supporting a multinational workforce
Conflict resolution & employee relationships
We can even handle professional and interpersonal conflict that arises in the workplace through:
Mediation
Addressing grievances
Resolving workforce issue as they arise
HR reporting & analytics
The best decisions are made when you have plentiful data at your fingertips. Europe HR Solutions provides this by:
Creating localized, real-time HR reports for company leaders
Offering insights into your Dutch operations and workforce
Pulling up data reports as needed
Project-based HR consulting
Our consulting services are about going beyond the day-to-day HR operations that keep your company running. Instead, we provide project-based consulting for specific company goals, as well as general consulting for how to maximize growth through strong HR practices. This includes:
Aligning your HR strategies to the business environment in the Netherlands
Tackling small or large-scale HR projects
Providing insights into the Dutch marketplace and how your HR procedures can strengthen your market position
IT resources & HR technology
Your in-house IT department doesn't necessarily know the ins and outs of the best HR software and technology. We can step in to support your IT professionals by:
Recommending the best HR technologies and software
Ensuring compliance with EU and Tech data protection laws
Managing all HR-related software usage
Reporting all required technology use information relevant local, national, and EU government authorities
Employee engagement & retention
Retaining your top-performing employees is essential if you want to grow your business! High rates of turnover are damaging to morale and productivity alike. We promote employee engagement and retention through:
Engagement initiatives that work well with a Dutch workforce
Identification of issues that cause high rates of employee attrition
Promotion of a positive workplace culture
Reduction of turnover through data-informed decisions
Even though this list does not include everything that our team at Europe HR Solutions can do for it, we hope it provides an insightful overview of the many different HR tasks that you can trust us to handle for you. 
When we talk about your company and your goals, we will create a unique contract that meets your specific needs. We don't provide a "one-size-fits-all" solution to HR, because those plans never really address what you need. 
Our services are designed to help you with your launch in the Netherlands and your operational growth in the EU.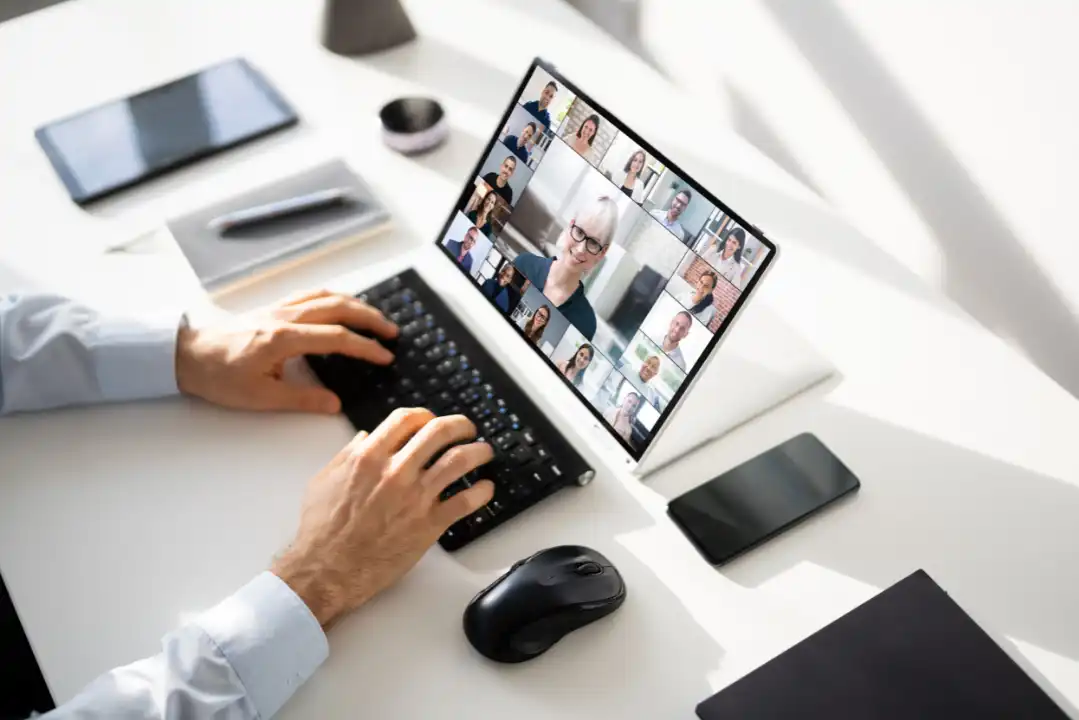 Why UK and US Businesses Benefit from Expanding to the Netherlands
The Netherlands may be small, but they should not be overlooked as an exciting prospect for UK or US expansion.
Entrepreneurs, business owners, and investors are coming to the Netherlands because they can see the potential for economic growth and business success. Let's take a look at the reasons why our clients are expanding into the Netherlands.
Great location
The Netherlands is positioned advantageously for further growth into mainland Europe. That's a big part of why Forbes places the Netherlands as the fourth Best Country for Business in the world.
Its location is also excellent for European transportation, as you can access just about everywhere in Europe from the Netherlands, including the EU's most lucrative consumer marketplaces.
In short, the Netherlands provides a gateway to the EU and beyond.
Highly competitive tax rates
While other European nations are consistently raising their corporate tax rates, the Netherlands offers a pro-business market that looks favorably on foreign business investments.
Corporate taxes are relatively simple in the Netherlands compared to other countries worldwide. The tax rate peaked at 25% in 2019, but has been reduced since then. For companies with €395,000 or less in taxable income, the corporate tax rate is only 15%. Companies that make more than €395,000, the tax rate is €59,250 + 25.8% tax on the taxable income that exceeds €395,000
Growing economic sectors in the Netherlands
Some of the Netherlands' fastest growing and established business sectors are:
Culture, sports, recreation, and other relevant services
Energy
Business services
Additionally, these sectors continue to do well:
Trade, transport, storage, and accommodation services
Food services
Real estate
Manufacturing
Additional benefits of a Dutch expansion
The Netherlands has the 6th largest economy in the EU
It has the 17th largest economy in the world
The Netherlands has a skilled, multilingual workforce
Great infrastructure for transportation of goods and people
What are the drawbacks of expanding into the Netherlands?
There are a few drawbacks to expanding your UK- or US-business into the Netherlands. It is important to be aware of these potential issues when making the decision about where you will expand.
Expensive fines for non-compliance with Dutch and EU labor laws (Outsourcing your HR can help with this!)
The strong "buy European" movement can make it challenging for US-based companies to get established in the Dutch market
Getting construction permits in the Netherlands is a lengthy and complicated process
HR Outsourcing in the Netherlands: FAQ
Europe HR Solutions has been assisting US and UK companies with their European operations since 2010. In fact, we have helped more than 200 companies, including startups, expansions, and mergers.
That means that we have answered a lot of questions over the years related to outsourcing HR in Europe. We want to share some of those FAQs with you so that you can be informed and knowledgeable about launching a European expansion via the Netherlands.
How can Europe HR Solutions guarantee labor compliance in the EU, including the Netherlands?
Non-compliance with labor laws and HR regulations is a big deal in Europe, including in the Netherlands.
Companies usually have three options to ensure compliance:
Option 1: Task your internal HR team to manage every aspect of labor law compliance for your expansion, which involves attaining mountains of complicated legal knowledge quickly and trying to avoid costly mistakes.
Option 2: Hire a global employment lawyer with experience in the Netherlands to give all of your documents and procedures an overview. Note: this tends to be costly, as you have to retain legal representation every time you make a change to your company procedures related to HR.
Option 3: Outsource your HR to an experienced, highly qualified, and multilingual team like Europe HR Solutions so that we can provide you with the kind of individualized attention you deserve. We understand Dutch and EU laws inside and out, and our goal is to help you maintain full compliance so that you don't make costly and time-consuming mistakes.
What are some Dutch labor laws that we should know about before our expansion?
In addition to following all EU laws related to labor and HR, you will also need to abide by the Netherlands' labor laws.
Here are some of these laws:
The government establishes minimum wage levels based on age and hours. Adjusted twice annually.
Full-time work week is 36-40 hours. Extra pay for overtime can be arranged.
Minimum vacation time is 4 times weekly hours per year. Holiday bonus is 8% of yearly pay.
Employers must provide valid justification and follow procedures to terminate employment, sometimes needing authorization.
Unions negotiate collective bargaining agreements covering pay, hours, termination, and more.
Discrimination for race, gender, age, etc. is illegal. Equal treatment must be ensured.
Ill employees receive 70% income for up to 2 years. Employers must create a  back-to-work plan.
Non-compete clauses need to be sensible and put in writing.
Overtime capped at 12 hours/day, 60 hours/week for adults. Less for under 18.
Laws forbid gender bias in hiring, promotion, compensation, and other areas.
Tax breaks offered for training, hiring, and other worker expenses.
Fines up to €82,000 for violations. Criminal charges possible.
Limitations on contract types and lengths per industry, age, qualifications.
Most of the time, pregnant employees cannot have their employment terminated from the first part of the pregnancy until one year after the baby is born.
Employees are entitled to maternity leave (5 months of compulsory leave), paternity leave (10 days that can be taken any time during the baby's first five months), and shared parental leave (11 months that can be used any time before the child is 13).
Parents of children with a serious disability may take an additional 2 years of shared time.
You must provide unlimited leave to parents who need to care for a sick child who is under the age of 3, and 5 days of leave for sick children between the ages of 3 and 8.
Europe HR Solutions – Your Partner in European HR
We are proud of our team at Europe HR Solutions. Our informed, experienced, and confident HR professionals know more than just European and Dutch labor laws. We also know how to turn your international workforce into a successful and effective team.
When US and UK companies outsource their Dutch HR services to us, we help you create a seamless connection between your headquarters and your operations in the Netherlands.
Check out our track record of successful partnerships with clients in the UK and the US who have successfully launched their expansions into Europe, including the Netherlands. We handle the complexities of European HR so that you can focus on growing your business.
Thinking about expanding into the Netherlands? Contact us
Let's talk about your expansion plans!
Contact Europe HR Solutions to learn more about how we can help your company as you navigate a successful move into Europe via the Netherlands. We look forward to learning about your business, and your goals for the future.
HR Brochure
Download our brochure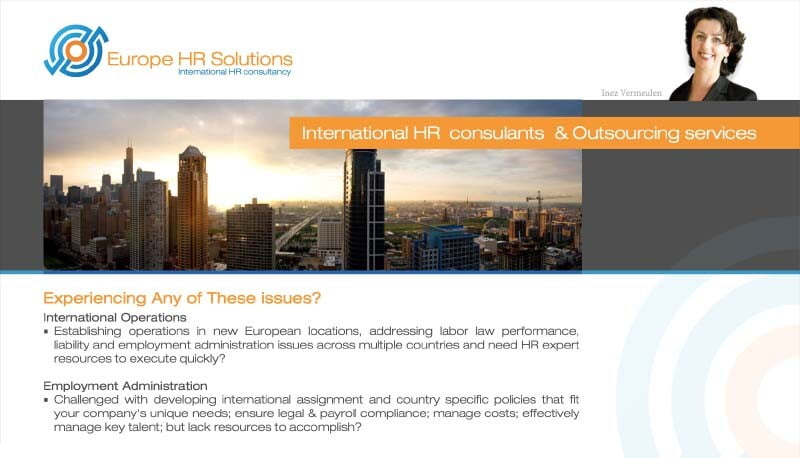 Our Brochure
Learn more about the services offered by Europe HR Solutions.