This is an exciting time to expand your business into Europe. Whether you are in the early stages of planning an expansion or you are already operating in the EU, there are always new things to learn, challenges to face, and questions to ask about the best ways to do business in this new setting.
Launching operations in the EU is legally complicated and financially promising. It's not uncommon for executives and company leaders to find themselves overwhelmed at some point in the process.
Europe HR Solutions provides outsourced HR consultancy services for businesses expanding into Europe so that they can focus on their work and their growth, instead of the logistics of recruiting, hiring, onboarding, and training, as well as compliance with the complex labor laws of the EU.
Staffing & HR challenges faced by expanding businesses
Some of the unique challenges that businesses face when expanding into Europe include:
Understanding and navigating EU labor laws
Recruiting and hiring talent across borders, including sponsoring visas and work permits
Managing a culturally diverse workforce
Standardizing HR policies and practices while allowing for local differences
Administrative complexities of payroll, benefits, and compliance in each country where they operate
Communication challenges and requirements for multiple languages
Understanding different approaches to labor relations and trade unions, based on location, culture, and history
At Europe HR Solutions, we offer HR consultancy for US and UK companies that have expanded into Europe. Our goal is to provide solutions to all of the staffing and HR issues that arise during your expansion and beyond.
Reasons to consider HR consulting for your expansion into Europe
Our experienced and supportive team at Europe HR Solutions is here to support your expansion. 
Our consultancy services focus on: 
Establishing strong HR procedures for a successful expansion into Europe
Crafting clear, concise, and legally sound employment documents, including handbooks, contracts, and policy statements
Providing focused HR project management and delivery across your organization
Facilitating recruitment drives for new employees, including large- and small-scale recruitment efforts
Overseeing independent disciplinary & termination process management
Providing ad hoc HR and labor law expertise across Europe
Finding staffing coverage during periods of absence, such as EU-protected long-term sick or parental leave
Answering your questions about HR best practices and policies
Why should you hire an HR consultancy firm like Europe HR Solutions? Because our multilingual, experienced team provides exceptional HR consulting services. 
When you choose us, you get: 
Local expertise
Regulation knowledge
Hiring assistance
Policy guidance
Cultural insights
Labor law navigation
Relocation support
Benefits setup
Payroll compliance
Training coordination
Language barriers
Union relations
HR integration
We empower the managers at your company to leverage your biggest asset – your people – in a way that promotes job satisfaction, productivity, and a growth-focused mindset. 
We never take a one-size-fits-all approach to HR consulting. Instead, we learn about your business, your goals, and your challenges. Then, we provide tailor-made support, based on what you need in order to grow. 
Imagine this: We provide everything you need for workforce management. Instead of working with multiple outsourced HR firms, Europe HR Solutions is your one, consistent, and dedicated HR partner. 
 We provide tools, services, and expert advice to coordinate all of your HR needs.
HR Consultancy Services for Your Expansion into Europe
Please review this list of consultancy services that Europe HR Solutions offers to businesses that are expanding into Europe. 
We can do all of these tasks for you, or you can select the services that you want to outsource to our team.
Recruiting
We can recruit the right people for your open positions with our reliable, efficient recruitment process. Our team is made up of highly skilled recruiting professionals, who can help you develop an effective recruiting strategy for your company.
Development of effective job descriptions
Wage and salary surveys
Recruiting process reviews
Interviewing and selection training
Recruiting assessment
Employer Liability Management
We help you find relief from time-consuming legal paperwork. As your administrator, we free you from tedious duties related to managing the risks that accompany being an employer in Europe.
Employee handbooks
Employee relations
Termination assistance
Outplacement services and return-to-work programs
Workers' compensation claims
Compliance with country-specific statutes
Government Compliance
We also help companies like yours manage your employer obligations. We effectively identify your risks of litigation and help to reduce that risk through full compliance with country-specific regulations and EU-wide laws.
Unemployment statutes & Claims
Implementation of employment liability policies
Country-by-country legal entity set-up and implementation
Adherence to country-specific statutes
Payroll Administration
Payroll administration can be a big burden, but Europe HR Solutions will coordinate every aspect of payroll. That allows you to direct your energy to more pressing issues related to managing your expansion.
Payroll coordination
Country-by-country payroll compliance
Reimbursement for employee expenses
Records management
Employee Benefits Plan Management
Part of recruiting and retaining top talent involves providing highly competitive benefits packages. We will help you provide various insurance plans, retirement benefits, and other essential employee benefits, even beyond the minimums required by EU and country-specific laws.
Plan design
Employee education
Enrollment policies and procedures
Performance Management Support
We provide the tools you need to manage your people. That includes helping them set goals, evaluating their performance, and creating meaningful incentives for exceptional performance at work.
Performance appraisals
Rewards programs
Incentive programs
Climate surveys
Definitions of core competencies in the workplace
Organizational development
Outplacement Support
In the event of a RIF (reduction-in-force), your company must be prepared to provide departing employees with outplacement services. There are two goals for outplacement: assist these displaced employees with their transition to a new job and maintain a positive employer brand and morale. Outplacement services should be compassionate and caring.
Severance negotiations
Career counseling and job placement assistance
Skills assessment and/or retraining
Legal resources for full layoff compliance
Reputation management during and after the RIF
Continued access to employment assistance programs
Training and Development for HR professionals
Our leadership coaching programs provide high-quality coaching programs for your in-house HR professionals.
Leadership development
Mentorship programs
Leadership consulting
Functional training for HR professionals
Compliance training for HR managers
Culture Building
Last but not least, our team can teach you how to foster a positive working environment, through our tailored, strategic recommendations. When you build a positive workplace culture, the heightened emotional connections your employees feel toward your company will end up having a direct impact on essential areas like productivity, efficiency, and morale.
Team building
Vision planning
Communicating values
Mission aligned-policies and procedures
Climate surveys
Europe HR Solutions: Passionate About Helping You Grow
At Europe HR Solutions, we thrive on seeing our clients grow! We want you to achieve the success you dreamed about when you started your company and first imagined an expansion into Europe. 
Let us help you realize that vision of success and growth. Connect with us today.
Related E-Book
Download this free E-Book
Expanding to Europe
This E-Book is about the HR guidelines for expanding to Europe.
HR Brochure
Download our brochure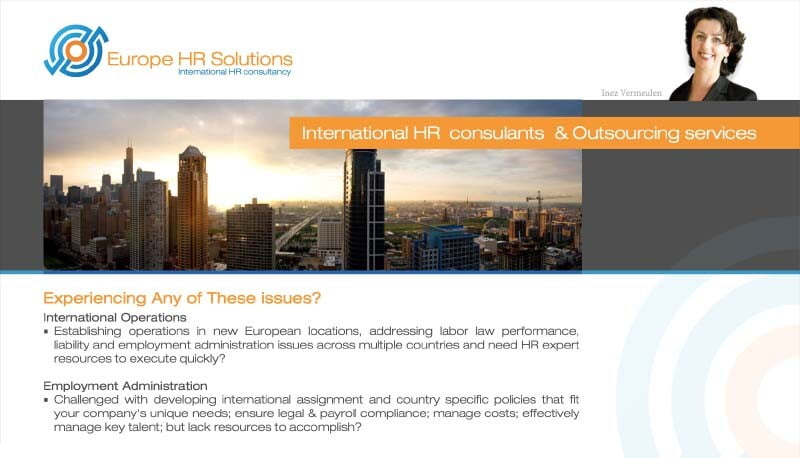 Our Brochure
Learn more about the services offered by Europe HR Solutions.