When you're ready to launch your US or UK business into an overseas business expansion, it can feel both exhilarating and stressful. Expanding your business to Europe can be a rewarding venture, but it comes with a host of challenges, especially in the realm of Human Resources (HR).
Each European nation presents its unique set of cultural intricacies and employment regulations. It's vital that you have HR professionals who are knowledgeable about broad European Union (EU) labor laws and employment regulations, as well as a team who understands the nuances that vary from country to country.
HR outsourcing can be a strategic and vital move for US and UK companies venturing into the European market. Europe HR Solutions stands ready to assist, offering comprehensive support tailored to the specific requirements of companies expanding to Europe.
What you need to know about expanding your US or UK business to Europe
Many US tech companies expand to the UK before venturing into European countries. In fact, a significant number of large companies choose to open branches in London or Dublin over any other major international city.
However, for businesses that choose to expand offices into nations such as Belgium, Germany, and Sweden a chance to offer a unique service or product plays an important role. An untapped market for niche brands, regardless of whether you have a small, medium, or large-sized business, can prove pivotal for success. Human Resources (HR) provides the foundation for your business expansion.
Let's take a look at how HR outsourcing for European expansion can play a crucial role in your success.
How HR can benefit your European expansion
HR outsourcing with Europe HR Solutions
Benefits of European business expansion
The role of HR in Europe
Outsourcing HR in Europe
Connect with Europe HR Solutions
How HR can benefit your European expansion
Europe sets the perfect stage for many US and UK companies ready for expansion. However, without thorough knowledge of HR and its differing roles in European countries, you could face many hurdles in your operations.
Whether you choose to build an inhouse HR department, or you select a proven HR outsourcing team, it's vital that your HR professionals understand the variances in employment laws and regulations in Europe, and remain in legal compliance as they implement policies and procedures.
HR competency will help you overcome challenges you may face, too.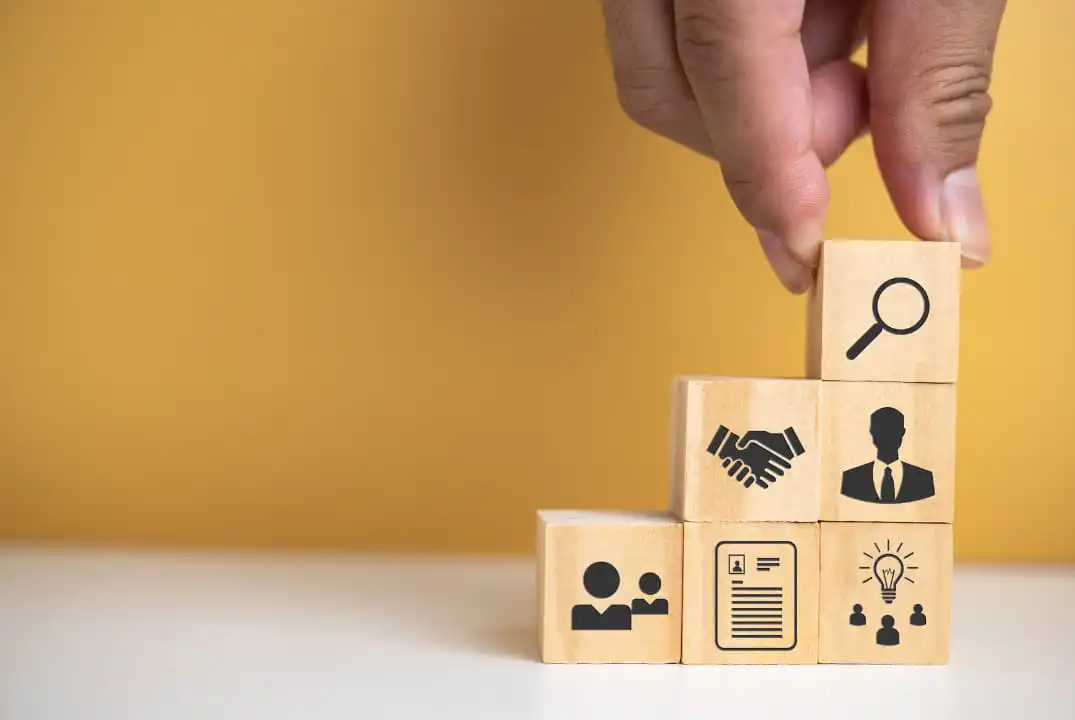 HR outsourcing with Europe HR Solutions
HR outsourcing is a great way to ensure that you have knowledgeable and proven professionals who can quickly take care of your HR needs. You should be able to focus on your mission, and leave the daily details of your operations in trusted hands.
If you contract an HR team who understands the different European markets, is well-versed in labor laws and employment regulations, and is up-to-date on talent acquisition trends and European employee benefits, you may find your business is positioned for successful growth.
Europe HR Solutions has helped numerous US and UK companies with seamless expansion into Europe. If you outsource your needs to us, we can provide the following:
Comprehensive HR support:
We can serve as an extension of your company and represent you in employee interviews and training programs. We'll ensure your business remains in legal compliance while promoting your company standards, values, and mission.
Project management solutions:
Our team will assist in creating customized solutions for your HR and expansion strategies in alignment with the unique requirements of the European market. This can help to ensure the smooth transition and sustainable growth of your company.
Talent acquisition strategies:
We'll work closely with you to identify your workforce needs. We remain on top of the current talent market trends, and will utilize these trends to help you attract and retain top-tier talent. 
Creation and management of training programs:
Our outsourcing team can assist in the creation and implementation of thorough and effective employee training and HR compliance management training programs, which can help streamline your company's vision and promote productivity
Implementation of policies and procedures:
Europe HR Solutions can help you to create and implement comprehensive employee policies and procedures to promote a thriving workplace 
Comprehensive legal compliance:
Our team understands the labor laws in place in Europe, and will ensure that your practices comply with legal regulations
Europe HR Solutions is experienced in fast-paced work environments. Your time is valuable to us and we'll provide quick turnarounds for ad hoc requests.
Benefits of European business expansion
US and UK companies of any size may find countless benefits by expanding to Europe. Although every European nation is different, many of the advantages of international expansion remain in place regardless of which country you choose.
Some of the universal benefits of European expansion for businesses include the following.
Favorable business environment
The European cultural and business landscape is extremely diverse, and offers many benefits for US and UK companies. Universally, Europe offers a favorable corporate environment. 
For example, lower corporate tax rates in countries like Denmark reduce the tax burdens you might face in North America and Britain. Overhead costs in most European nations also prove lower than their US and UK counterparts.
English is considered the official business language for much of Europe, too. Although it's wise to outsource HR to a team that may have proficiency in native tongues, English-speaking corporate workforces don't encounter the same language barriers faced in other nations.
Free trade
The European market remains wide open for the trade of most goods and services. It's still important to employ a detailed strategy and business plan to determine which countries are best for your business. 
However, the European Economic Area Agreement makes free trade across country lines fairly simple. Even non-EU countries in Europe, such as Lichtenstein and Norway adhere to free trade agreements.
Larger consumer base
European business expansion also provides your business with a larger reach and potential consumer base for your products and services. There are 448.8 million potential customers in the European Union — more than the US and the UK combined.
Along with free trade agreements, Europe's diverse population means that your brand has the accessibility to meet the needs of people you couldn't reach without expansion.
Diversification
Europe also offers US and UK companies a competitive, yet diversified market. US small, medium, and large brands that enter the European market may find they have a unique edge on similar Europe-based products and services.
Enhanced quality of life
Although the benefits of each country vary, overall, European residents enjoy a higher quality of life than their US and UK counterparts. Universal healthcare is offered in many EU nations, and paid time off is mandated by many governments.
Highly educated workforces can provide your foundational talent in countries like Germany, France, and Denmark. Government-provided childcare, maternity, and paternity leave is also offered in many European nations.
The role of HR in Europe
HR plays a vital role in leadership and management in European businesses. Outsourcing your HR to a knowledgeable team can lead to a successful and thriving expansion, and can reduce the long-term costs of building an inhouse department. 
You can anticipate relying on HR in Europe for the following:
Talent acquisition, recruitment, and retention
Business launch and growth
Development of employment contracts
Employment of digital trends and transformation
Research and implementation of benefits software
Streamlining operations for efficiency
Employee training
Implementation of policies and procedures, including employee handbooks
Leadership development
Legal compliance of operations, policies, and procedures
Outsourcing HR in Europe
Outsourcing your HR may help to ensure your US or UK-based company remains on top of the latest HR trends and best practice standards in Europe. An outsourced HR team can support you in your transition, acquire the best inhouse and remote hires to fit your needs, and can foster a productive and happy workplace culture. 
For example, your HR team can set the tone for your inhouse culture through initial talent interviews, training, and leadership development. However, an outsourced team can also help with benefits and payroll administration, and streamline internal and external practices to comply with labor and workplace laws.
Connect with Europe HR Solutions
Europe HR Solutions has helped many US and UK companies successfully expand their businesses into Europe. We understand how stressful expanding to Europe can feel, and the miniscule HR details that demand attention. 
We care deeply about your success, and will apply customized, innovative HR solutions so that you can focus on your mission and expansion, and your HR needs will be our highest priority. We take pride in the satisfaction of our clients, and our ability to adhere to the nuances of employment regulations and labor laws throughout Europe.
HR outsourcing for businesses expanding to Europe can be the difference maker for your company. Connect with us for a free consultation and start planning your international expansion today, and check out our blog for the latest HR insights and tips.
HR Brochure
Download our brochure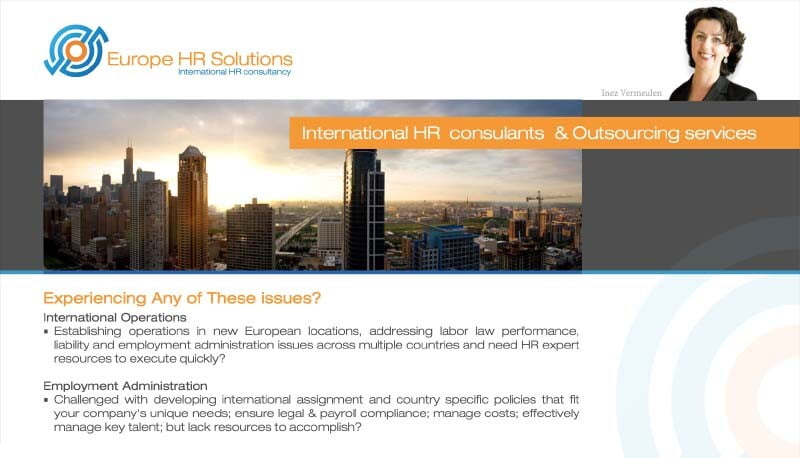 Our Brochure
Learn more about the services offered by Europe HR Solutions.