Inez Vermeulen
As the Founder and CEO of Europe-HR-Solutions, Inez Vermeulen has more than 25 years of successful corporate and entrepreneurial experience in a number of global industries ranging from retail, FMCG, financial services, and medical devices in Germany, Belgium, UK, Italy and the Netherlands.
Throughout her business career, Inez has helped grow and expand the European divisions of global companies such as Coca-Cola Company, Regus, DHL, American Medical Systems, ect She received a number of company awards for her entrepreneurial spirit and success.
Inez international HR and Business knowledge and expertise comes from first-hand experience, having been involved and responsible for double digit growth figures, maximizing performance & talent, startups, expansions & acquisitions.
Inez owns a Bachelor's degree in French, History and Latin, several HR global expert certifications, a Master's degree in Metaphysical Sciences, ICF Coach Certification and has finalized her Doctorate on Transformational Leadership. She speaks Dutch, English, French, Italian and German.
Inez works in partnership with an extensive international network of independent & professional companies.
Inez resides in Belgium near Brussels, with her husband Jan and works on a global level.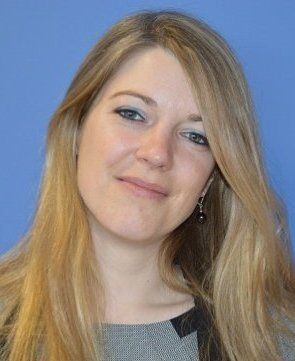 Karine Hauben-Julien
Karine Hauben-Julien is a seasoned International Human Resources Manager, who decided after 15 years of successful international work experience in corporate environments to start working as an international HR Consultant.
She worked in different industries such as the medical devices, automotive and travel industry.
Karine owns a bachelor's degree in Marketing, several HR certifications and is a self-made Human Resources professional. Her knowledge comes from first-hand experience, having throughout her career been involved in and responsible of many projects such as international start-ups, mergers and acquisitions, reorganization's, compensation & benefits, talent & performance, international recruitment, policies & procedures for many different European countries.
Due to extensive travel throughout her career, Karine has become passionate and learned a lot about different cultures all over the world. She speaks fluently Dutch, French and English. Karine resides in Belgium, nearby Brussels and also works on a global level.
Fransziska Niemann
Franziska Niemann is an internationally accomplished HR Professional who has been working in different HR positions with increasing responsibility in various countries. She has experience across a diverse range of industries in fast changing and complex matrix environments within Europe. Her outcome-oriented approach enables her to find creative yet business enhancing solutions to advance organizations and establish strong operational structures.
Her hands-on, practical approach paired with strong stakeholder management skills focuses on business and customer satisfaction across a wide range of HR topics. Franziska holds a first class honours degree in Human Resource Management from London Metropolitan University.
After having lived abroad for many years (London/Vienna) as well as
travelled extensively in Asia, she returned to Germany and currently resides
in Berlin.
Sandra Mourits
Sandra Mourits is a dynamic and result driven Senior HR Business Partner with extensive experience in the field of Human Resource Management. From start-ups to well-established, professional companies. Whilst most of her experience is in the life science industry, she has experience in IT/Software, Logistics, Event Management, Aviation and Banking.
She has proven success in creating cultures of collaboration and implementing change to achieve workforce excellence. Sandra possesses experience in several aspects of human resources including recruitment, leadership development, HR policies and procedures, employee training, compensation and benefits and managing Employee Relations. She has a track record of coaching in the areas of transformational leadership, intercultural communication, team building, and managing change, with proven success several countries across Europe as well as Australia. She holds a bachelor's degree in Human Resources Management.
After having lived and worked in Australia for 4 years, she returned to her home country The Netherlands where she currently resides in Amsterdam.
Céline Martin
Céline Martin is a successful multifaceted HR professional that combines IT , process optimization & HR project management skills to help organizations maximise their HR-ROI.
Making organizations, its leaders and employees win more with the right blend of technology, human passion-innovation & process governance excellence & discipline, she's specialized in many crucial HR domains that make her a valuable HR revup professional.
Celine specializes in recruitment, payroll, social law, conflict resolution, training, strategic HR planning and processes, financial reports & budget, fleet management and HRIS system implementation. She is IT, KPI and HR Project management minded HR pro who has worked extensively at a global level in various industries. A Belgium, native, she's fluent in French and English languages.
Karen Dorling
With over 20 years' experience in Human Resources Management, Chartered MCIPD, Karen Dorling has a thorough understanding of the UK employment law and best practice across various industry sectors.
Karen has a wealth of HR and Change experience to call on in different situations matched with a natural ability to choose the best solution to any given problem. Discreet and tactful, she demonstrates exemplary leadership skills and the ability to negotiate and motivate at all levels but what stands her apart from many others in her field is her generosity of spirit with her time and experience.
These qualities quite deservedly earn her a widely respected reputation as an extremely competent and balanced HR professional who is an asset to any company.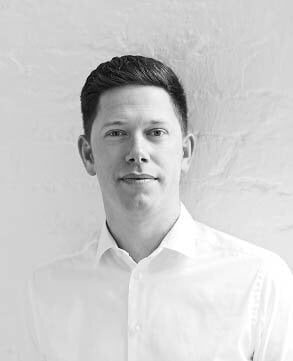 Niko Wels
Niko Wels, an accomplished senior international HR professional with 15 years' experience in HR Business Partnering, Compensation & Benefits, Grading, Change Management, HR Quality Management, Quality Assessments & Audits, HR Process Management, Strategic HR Planning, Niko lives in Berlin with his partner and son.
Niko excels in communication, fluent in English, German, French, and is a great HR business partner who smoothly handles the most complex and difficult HR challenges.
Roberta De Ponti
Roberta De Ponti is an experienced HR senior professional with a broad knowledge and solid background on all HR processes combined with a pragmatic and direct approach to the business.
Over 25 years of HR professional career with growing international responsibilities gathered in top tier multinational companies such as Apple Computers, Philips, Ernst Young, Cap Gemini, and IDC Corp. Excellent success track record in building and executing complex matrix organizations in multiple geographies across Europe.
Competent in various areas of HR practice, with exposure to European HR legal & compliance regulations, with the knowledge of European rules. Enthusiast and self-motivating person, excellent organizational skills, able to work effectively in multi-cultural environments gained through international responsibilities.
Excellent relationship builder and people manager, able to effectively manage multi-level HR organizations, creating effective teamwork with local structures. Proactive, client and business orientated, strong delivery attitude. Roberta is Italian and lives in Monza, speaks fluent English, Italian, French.
Olivia Vanderbecken
Olivia Vanderbecken is an Executive Assistant, who decided after more than 25 years of experience, to start working as a freelance virtual assistant. She has experience as an administrative allrounder across various industries such as real estate, health care and education. Her most important asset is her accuracy and efficiency.
Olivia is bilingual Dutch/French and speaks English and Spanish as well.
She lives in Belgium, nearby Brussels.
Katarzyna Piekut
Katarzyna Piekut is our Polish HR Expert. She lives in Warsaw and has 15+ generalist and commercial HR experience.
Monika Abboud
Monika Abboud is native German, Croatian, fluent in English and speaks also Swedish and Norwegian. She has a BA in transcultural communication and English linguistics. She holds an HR management degree of the University of Minnesota.
She is an HR generalist for Germany, Austria, Switzerland, and the Nordics. Monika lives with her husband and 2 children in Bergen, Norway.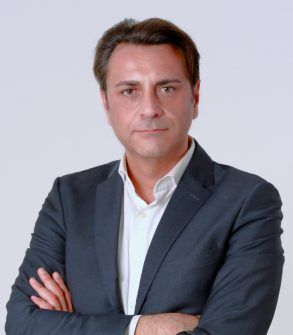 Luca F. Marelli
Luca F. Marelli is native Italian, speaks fluent English, Spanish and brings 15 years of international management experience in establishing Global HR Departments. Partnered with culturally diverse executive leadership teams in leveraging Human Capital Management from high-growth tech startups to Fortune 500 multinationals. Influenced business outcomes by strategically implementing HR's best practices, organization design, and culture development. Counseled C-levels on complex HR issues and designed comprehensive HR solutions to sustain business requirements for short- and long-term objectives. Helped HR teams to develop new skills and expertise, sharing knowledge and coaching them. Improved talent management to increase retention rates. He has lived and worked in 9 countries across 3 continents, owns a Bachelor of Science in Business Administration | Bryant University | Smithfield, Rhode Island (USA) and an Executive Master's in Corporate Communication | Cesma Business School | Milan (Italy). Luca currently lives in Milan, Italy.
Isabell Frost
Isabell Carolin Frost is native German with 10+ years of experience as HR Business Partner holding a Master of Laws Business Law. She is also a professional business coach, lecturer for human resources management and corporate health topics and a yoga instructor. As an HR Consultant, she supports our portfolio of fast growing & small companies as well as medium-sized companies and group of companies in different business industries in Germany. She is a great team player with a hands-on mentality combined with prudence & efficiency.
Verena Vujinovic
With over 17 years of HR experience and a global working background, Verena Vujinovic has thrived in various HR roles and established herself as a respected HR consultant. Her journey through esteemed positions such as VP Global Head of People and Culture, Director of HR for EMEA and other key roles has not only shaped her comprehensive understanding of the field, but also deepened her expertise across the entire employee experience journey. Throughout her career in multinationals and SMEs, she's worked in industries as diverse as pharmaceuticals, automotive, industrial process automation, FMCG and IT. Central to Verena's approach is a people-centric ethos. She emphasizes a customer value approach that benefits both individuals and organizations, reinforced by a global and growth mindset. Verena's academic achievements are highlighted by a triple degree in International Business Management from France, Switzerland and Germany, graduating summa cum laude. Multilingual, fluent in English and French, with German as her mother tongue and basic knowledge of Serbo-Croatian and Dutch, she's not only a certified Systemic Coach, but also a valued lecturer at the University of Cooperative Education, where she combines theoretical knowledge with practical application. Based near Freiburg, often referred to as the "Tuscany of Germany", Verena enjoys spending time on her brother's animal farm, is passionate about intercultural exchange, literature, philosophy and keeping up with HR and global mega trends. Her commitment to endurance sports reflects her holistic approach to life. 
HR Brochure
Download our brochure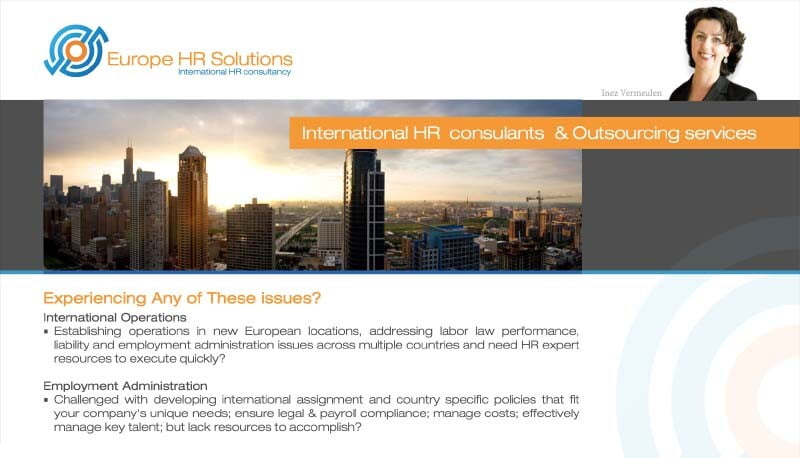 Our Brochure
Learn more about the services offered by Europe HR Solutions.