Expanding your company into Spain can be daunting, but it doesn't have to be something you try to do all on your own. You can outsource your HR services to our experienced team of European HR specialists to make the process faster and easier. 
Spain is an attractive location for US and UK companies looking to expand their operations into Europe, and an exceptional HR team can be the key to a smooth expansion.
How HR Outsourcing Works in Spain
Europe HR Solutions can perform as many or as few HR tasks as you need us to. We work with clients to create a fully customized plan for their expansion. Often, that includes a comprehensive approach, although we can also provide a la carte services to those who need them. 
This is a substantive but non-exhaustive list of tasks that your outsourced HR team can do in a number of areas.
Recruitment & talent acquisition
Find best-fit candidates for your Spanish operations
Understand the local job market
Navigate language requirements to help attract top-tier talent
Employee onboarding & offboarding
Streamline the onboarding process for new hires
Provide all necessarily onboarding documentation in compliance with local, national, and European labor laws
Abide by mandatory exit procedures for offboarding employees
Payroll processing & benefits administration
Process payroll according to Spanish tax regulations
Ensure timely payments to employees
Manage benefits (including both employee enrollment and communication with local providers)
HR compliance & legal support
Ensure full compliance with Spain's complex labor laws
Reduce legal risks and potential fines
Draft employment contracts that align with Spanish law
Performance management
Implement performance appraisal systems that are tailored to the work culture in Spain
Assist in setting objectives for high performance
Provide feedback to employees to enhance their performance
Training & development
Identify gaps in your training plans
Tailor your training & development programs to the local workforce
Offer development programs for specific skills
Train employees to work with in an international environment
Employee relations & conflict resolution
Mediate conflicts
Address grievances
Resolve workforce issues
HR reporting & analytics
Provide localized HR reports to the US or UK company
Offer insights into the company's workforce in Spain
Support data-driven decisions
HR consulting
Provide exceptional HR consulting services 
Prepare expert advice on HR strategies that align with Spain's business environment
Offer insights to help internal HR teams have more success
Support in-house HR teams with data and strategy
HR technology & systems
Assist with implementation and integration of HR software
Comply with Spanish and European data protection regulations
Meet local, national, and European reporting requirements for technology use
Employee engagement & retention
Design engagement initiatives that are aligned to your Spanish workforce
Identify reasons for employee attrition
Promote a positive workplace culture
Reduce employee turnover
Please note: this is not a comprehensive or required list. When you contact Europe HR Solutions, our team will help you develop a strategy that meets your specific needs as you move to and grow in Spain.
Why US & UK Businesses Are Expanding Into Spain
Many entrepreneurs and business owners have started to view Spain as an appealing expansion destination.
When you take a look at the benefits of operating in Spain, it is easy to see why so many companies are choosing to go this route.
Spain is a gateway to both the EU and LATAM
Spain is viewed as a gateway to two important markets: the European Union and Latin America. The EU's single market system gives you the opportunity to capitalize on the free movement of talent, products, services, and capital.
If Spain is your first expansion into the EU, then it will be your first point of access to over 450 million consumers in the EU marketplace. You will have the opportunity to establish yourself in this business landscape to reach far more customers and build partnerships with businesses that were never accessible to you before.
In addition, Spain has deep cultural, historical, and language connections with Latin America, which provides a pathway to expansion in the LATAM market, as well. That's another 650 million consumers.
Many sectors in Spain are primed for growth
Some of the fastest growing sectors of the Spanish economy are:
Technology
Real estate
Tourism
Digital marketing
Medical technology
Textile industry
Automotive industry
Additional benefits of expanding into Spain
Some of the additional benefits for UK and US businesses planning to expand into Spain include:
Strategic location for access to African markets
Favorable economic and political climate for global businesses
Skilled and multilingual workforce
Potential for growth as a global organization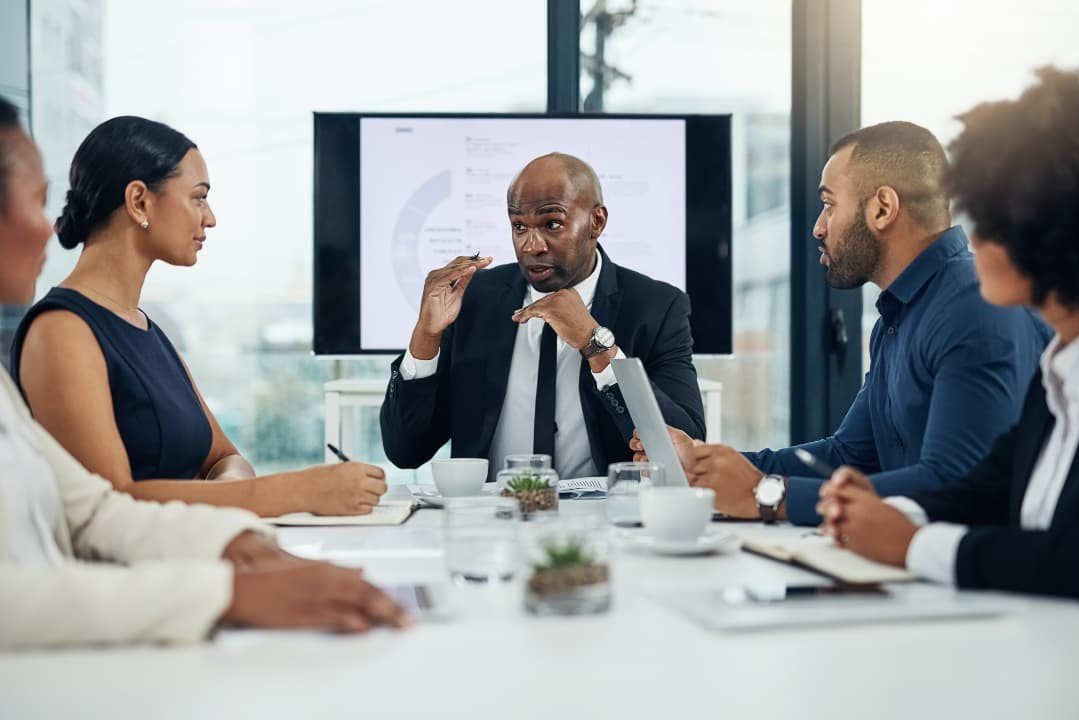 FAQs About Expanding From the US or UK into Spain
Since 2010, we have helped more than 200 US and UK companies with their expansions, acquisitions, and startup plans in Europe.
That means we have answered a lot of questions about outsourcing HR over the years!
Below are some of the most frequently asked questions we hear about launching operations in Spain and Europe.
What are the biggest challenges of a Spanish expansion?
Navigating HR-related compliance and labor laws are some of the biggest challenges that companies face when moving their operations into Spain.
Outsourcing your HR services helps to protect you from making expensive and time-consuming mistakes related to Spanish labor laws.
What are some of the labor laws my company will need to follow in Spain?
You will see significant overlap between laws in Spain and the EU. Some of the legal realities in Spain include:
Work week is typically limited to 40 hours
Maximum working day is 9 hours long
12 hours of rest required between shifts
1.5 days of consecutive rest required per week
After 6 hours of work, employees get at least a 15-minute break
Minor employees may work up to 8 hours a day, but they are entitled to a mandatory 30-minute break in any workday that is more than 4.5 hours
Minor employees get weekends off
Any night work (between 10 pm and 6 am) must be paid at a premium
Employees can contribute no more than 80 hours of voluntary overtime annually
Monthly minimum wage is €965
This is not a comprehensive list, but it should give you a good idea of just a few of the labor laws you will be required to follow for Spanish employees.
What are the benefits of working with Europe HR Solutions?
Europe HR Solutions provides multilingual support for a seamless connection between your US or UK business and your operations in Spain.
We have a proven track record of successful partnerships with our US and UK clients. We can accelerate your expansion into Spain, prevent costly fines from mistakes, and help you save time. We handle the complicated network of HR systems so that you can focus on the other aspects of your expansion.
Are You Ready to Launch in Spain?
Contact Europe HR Solutions to learn more about how we can help your company navigate a successful expansion into Spain and the EU.
HR Brochure
Download our brochure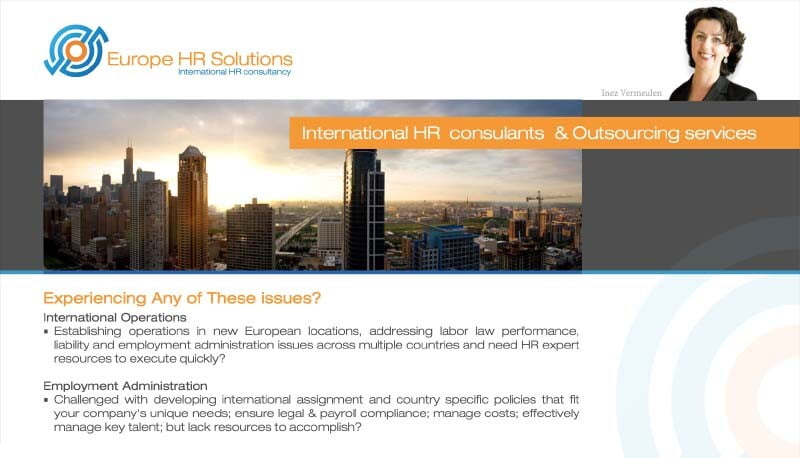 Our Brochure
Learn more about the services offered by Europe HR Solutions.