Your small business deserves to thrive. If you lack the time and experience needed to deal with European human resources challenges, HR outsourcing might be the solution. Our team at Europe HR Solutions can take care of all of your HR requirements so you can focus on growing your business.
The benefits of HR outsourcing for small European companies are significant. We've helped many small businesses with their HR needs by providing a wide range of services and support.
HR Outsourcing Services for Small European Businesses
Small business HR outsourcing services
HR outsourcing process
Why small businesses should outsource HR
What is the difference between HR consulting and outsourcing?
What is the most common HR function that is outsourced?
Is it cheaper to outsource HR?
Contact Europe HR Solutions for Your Small Business HR Outsourcing Needs
Small business HR outsourcing services
We can take on full HR operations for small businesses based in Europe. Some of our small business HR outsourcing services include:
Setting up local payroll with local country partners
Providing support through an HR Help Desk
Interim HR support
Fixed number of days on site per month
Setting up benefits and administration with local country partners
Creating employee handbooks
Personnel administration
Screening and assessment of candidates
Creating employment contracts
Creating and reviewing policies and procedures
Training needs analysis
Improve business performance
If you don't see your desired service on our list, please don't hesitate to give us a call. We'd be happy to discuss your small business's HR needs in more detail.
HR outsourcing process
We have flexible solutions that we can tailor to meet the HR needs of your small business. Our outsourcing service is designed to be versatile and scalable — you can add or remove various HR services as your business grows.
Our streamlined HR outsourcing process ensures that you get the HR support and expertise your European small business needs right away.
Step 1: Contact us
The process starts when you reach out to us about your small business HR needs. We'll put you in contact with one of our European HR experts to discuss what the best solutions for your business are. We can discuss project scope and start establishing an actionable time frame.
Step 2: Meet your HR consultant
Once we have a clear understanding of what your small business needs, we'll assign you a consultant or project manager who will be the point person for all things related to HR. All of our experts are highly qualified and will take the time to get to know you and your business.
Step 3: Choose your services
Your HR consultant can help you decide which of our outsourcing services are best for your small business. By this point, we should have a deep understanding of your HR needs, so we'll be able to recommend the services we feel are the right fit for you.
Step 4: Outsource your HR
The final step is agreeing on a start date. Then we begin implementing your new HR outsourcing service.
Why small businesses should outsource HR
HR outsourcing has several advantages for small businesses. More and more European businesses are looking to hire external HR experts to save on costs and boost efficiency. For small businesses, HR outsourcing could have a dramatic impact on overall growth and productivity.
Save time
HR outsourcing services have the potential for more efficient time management and streamlined operations. By entrusting HR tasks to qualified providers, small business owners don't have to spend time on HR tasks themselves.
HR outsourcing companies are equipped with the resources and technology to take care of payroll management, administering benefits, and maintaining personnel records. This allows small businesses to concentrate on developing strategies and exploring opportunities for growth.
Reduce costs
Outsourcing your HR and relying on experts can reduce costs in several ways:
You stay compliant so you avoid administrative fines and penalties.
You have a shorter hiring process, which requires fewer funds.
You have the time to grow the more lucrative aspects of your business such as sales, profits, and strategic development.
You avoid costly workplace accidents with an HR risk management plan.
Access HR experts
With HR outsourcing, you can tap into the expertise of our HR specialists. We have the skills to handle complex HR problems and processes to ensure your small business continues to run efficiently.
Some areas where we can provide our specialized knowledge include:
Employee career development: We can help you implement skill development plans for your staff.
Performance management: We'll help you small business with developing performance appraisals, goals, and improvement plans.
Compliance: Labor laws and industry regulations are complex. Our HR experts easily help your small business navigate these obstacles.
Maintain compliance
Often, small businesses don't have the knowledge or means to understand the intricate details of employment rules and laws. Businesses can guarantee compliance with relevant laws and regulations and minimize the risk of non-compliance by entrusting HR services to specialized providers.
External HR specialists have the legal competence to interpret constantly changing labor laws. They can help you avoid costly legal disputes. With our HR experts to manage the legal aspects of your HR operations, you're free to focus on your core business functions.
Focus on your business
When you outsource HR operations, you can focus your time and energy on product development, sales, customer service, and other vital areas of your business.
With an external HR partner for your small business, you'll have an easier time recruiting and retaining top European talent. When you have talented professionals, it makes it easier to grow your small business or reach your development goals.
Scale to your needs
Scalability is one of the biggest benefits of HR outsourcing for small businesses. If you want to quickly expand your business and hire new talent, you don't have to worry about HR holding up the process. If you need more support at a particular time, we can provide you with additional services.
If you have a period of low activity, you can also scale back on your HR outsourced services without having to stop outsourcing completely.
Increase employee retention
By relying on HR outsourcing services, businesses can create and execute strategies that improve employee satisfaction. Our European HR experts can help your small business with:
Implementing performance management systems
Conducting regular employee surveys to get feedback
Training and development opportunities for employee growth
Streamlining the talent acquisition process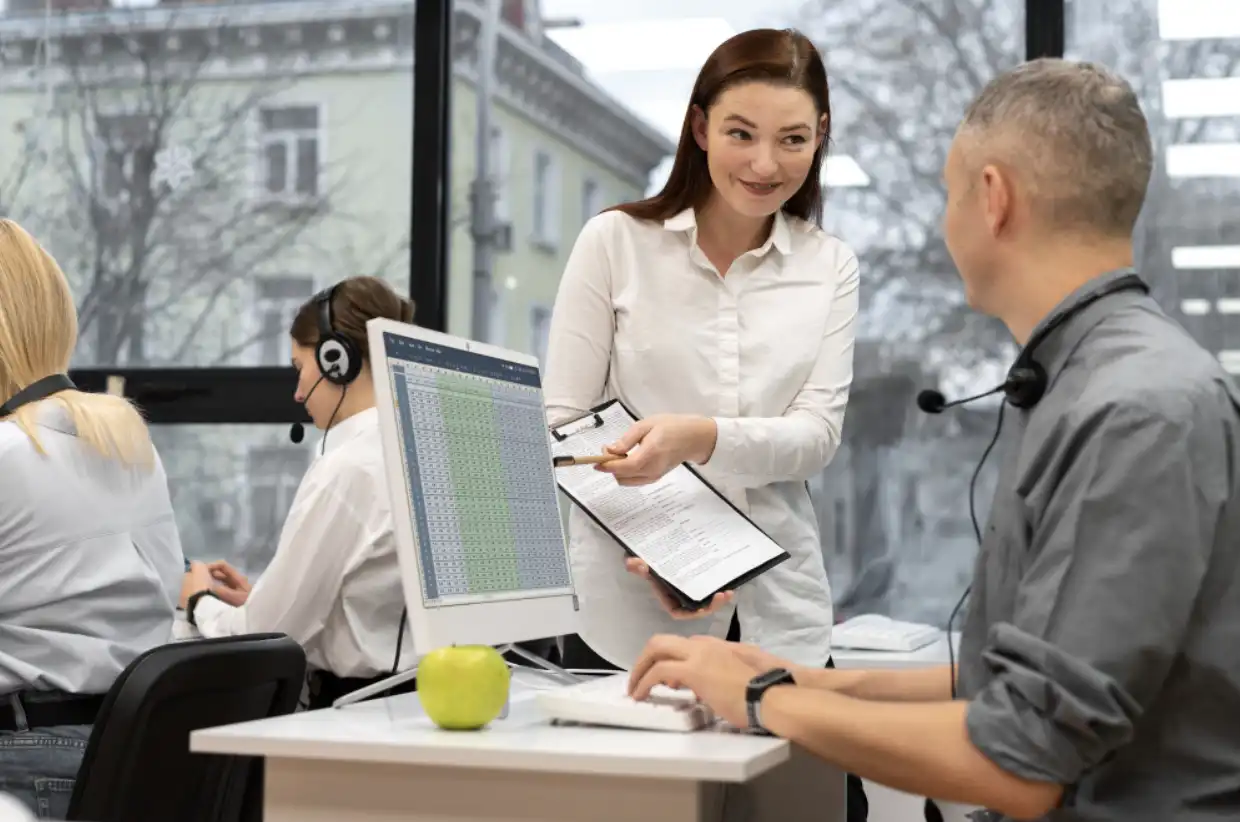 What is the difference between HR consulting and outsourcing?
HR consulting and HR outsourcing are similar services and both can immensely benefit small businesses. They aren't the same, however. With consultancy services, you get tailored advice for your company, but it's up to you to implement changes. With HR outsourcing, all HR functions and operations are handled by an external team.
How do you know when to choose HR consulting or HR outsourcing?
At Europe HR Solutions, we offer both consultancy and outsourcing services. We're able to fit the needs of your business, whether you want a direct or more hands-off approach. When you contact us with your small business HR needs, we can discuss which service would be best for you.
We generally advise HR consulting for companies that:
Already have an HR department or representative
Are expanding into a new country in Europe
Want to expand their workforce
Need help revising policies and processes following a change to labor laws
We typically recommend HR outsourcing for your company if:
You're a brand new company with no HR infrastructure
You're unfamiliar with how payroll, benefits, and social security works in your country
You need an agency or representative to run your recruitment program
What is the most common HR function that is outsourced?
Every small business has different HR needs. We take your business and your unique situation into account when advising on which outsourcing services you might need. With that being said, there do tend to be HR operations and tasks that get outsourced more often than others.
These HR functions include:
Payroll processing
Benefits administration
Compliance with employment law
Employee relations
Talent acquisition
Performance management
Regulatory and risk management
When you contact Europe HR Solutions to discuss the needs of your European small business, we can help you determine which services are the right fit for you.
Is it cheaper to outsource HR?
By outsourcing your HR functions, you can save 50 percent off the cost of firing full-time, in-house HR staff. For a small company, that kind of savings is huge. You can use that cash to invest in sales, product development, or customer-facing roles.
Outsourced HR can also reduce your risk of non-compliance, which leads to expensive litigation. When you have your CEO working as the ad-hoc HR rep in your small company, the risks of not complying with local labor laws and requirements go way up. When you hire experts to take care of your HR for you, you avoid costly penalties.
When you hire an external company to take on your HR operations, your core team can focus on your company's mission. HR is important, of course, but if you and your staff are spending a significant chunk of your time on it, that's time you lose for working on business development and growth.
Contact Europe HR Solutions for Your Small Business HR Outsourcing Needs
Our HR experts can ensure your small business has the support and guidance it needs. We want you to focus on your small business development and growth — so let us take care of your HR operations. Contact us today so we can discuss your HR requirements.
HR Brochure
Download our brochure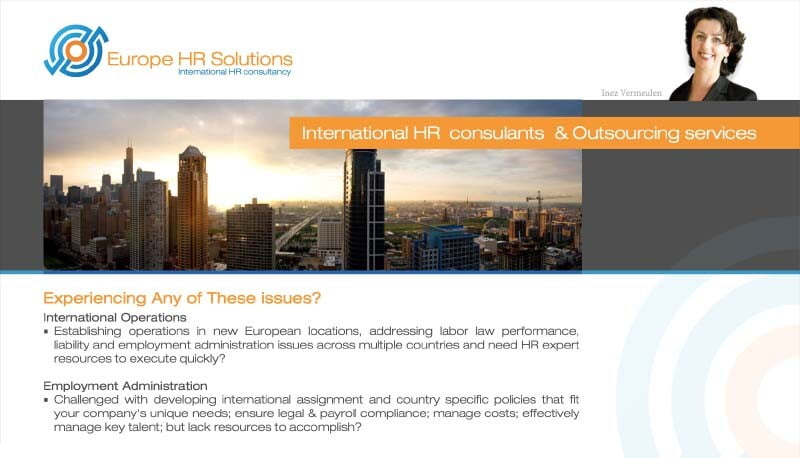 Our Brochure
Learn more about the services offered by Europe HR Solutions.