The initial phases of planning a business expansion into France can prompt a lot of excitement, but that excitement can quickly shift to uncertainty. The workload associated with European expansion for your UK or US business may leave you feeling swamped.
However, there's no need to tackle this challenge alone. Instead, you can opt for a more manageable approach by outsourcing your HR services to a seasoned European HR team.
At Europe HR Solutions, we are here to be your reliable partner throughout this long but rewarding process. Our multilingual team of human resources experts will guide you through the process of expanding into France, and therefore, into the EU.
The Basics of Outsourcing Your European HR
UK and US businesses can't expand into France without taking compliance seriously.
In order to avoid costly missteps and fines, you have to successfully navigate the complexities of EU and French regulations. With our expertise, you can rest assured that your HR processes align with labor law. 
Outsourcing your HR processes provides a solid foundation for your successful business expansion. 
France, with its strategic position in Europe, has long been an alluring destination for both US and UK companies seeking to broaden their horizons across Europe. In addition to a prime geographical location, France boasts a highly skilled and multilingual workforce. 
By entrusting your HR services to Europe HR Solutions, you can harness the advantages of France's business-friendly environment while leaving the administrative complexities to us. We free up your resources so that you can concentrate on core business operations and strategic growth, all while we expertly manage your HR tasks.
Benefits of Expanding Into France
Business owners in the US and the UK have recognized the benefits of expanding into France for decades. 
Today, there are 4,500 American companies operating in France. With over 500,000 people in France employed by these American firms, the US is the top foreign investor in the nation. Meanwhile, the UK has 2,000 firms in France. 
Here are some of the most significant reasons that companies choose to expand into France:
France boasts a talented and hardworking workforce.
France's workforce is educated, hardworking, and productive. French employees are known for taking pride in their work and valuing professionalism. With a robust, centralized education system, graduates of French schools are well prepared for a variety of industries and professions.
French corporate taxes are decreasing.
The French government has been restructuring its corporate tax laws. The corporate tax rate dropped from 26.5% to 25% in 2022.
France boasts the third-largest economy in Europe.
As a founding member of the European Union and a major player in international trade, France's economic significance extends beyond its borders, solidifying its position as a key player in the European and global economic landscape.
The infrastructure in France is highly developed.
You can get anywhere in Europe from France. With high-speed rail systems connecting Paris with the rest of the continent, ports on both the Atlantic and Mediterranean coasts, a well-developed motorway system, and a strong investment in infrastructure and sustainability, France provides an excellent gateway into the rest of Europe.
Fast growing economic sectors in France
These are some of the fastest growing or already established economic sectors in France:
Energy
Automotive manufacturing
Banking
Tourism
Telecommunications
Transportation
Healthcare
Pharmaceuticals
Aeronautics
Know the risks of opening a business in France
Expanding your business into France presents inherent risks, as is common with any international expansion. Prior to entering the French market, it's essential to consider the following potential challenges:
High Corporate Tax Rates
Despite France's reduction in the corporate tax rate that went into effect in 2022, the tax rate is still relatively high. It is slightly higher than the US's corporate tax rate, and about the same as the UK's. Understanding and managing tax implications are crucial for a successful expansion.
High Labor Costs
Labor costs in France are expensive thanks to the protections that exist for French workers, a strong labor rights history, and a highly skilled workforce. Be sure to factor these labor costs into your overall operational expenses.
Legal Bureaucracy
If you have never heard stories about France's incredibly complicated legal system, you will experience them firsthand when you launch your European expansion with a presence in France.
Normal Economic Risks
As with any business expansion, merger, or startup, there are economic risks associated with entering a new market. Factors like market fluctuations, competition, supply chain issues, and changes in consumer behavior should be anticipated.
While expanding into France offers numerous opportunities, being aware of and proactively addressing these risks can help mitigate potential challenges, ensuring a more successful and sustainable venture in this vibrant European market.
What does outsourcing HR in France look like?
At Europe HR Solutions, our services are fully customizable. We meet with our clients to develop a plan that works for them, taking on as many or as few HR tasks as you want. We can do it all, or we can take on the tasks that your internal HR team is not equipped to handle.
Here is a non-comprehensive but useful list of HR tasks that UK and US businesses often choose to outsource when they move into France:
HR Consulting
Receive comprehensive and tailored consulting services on a regular or as-needed basis
Benefit from expert HR advice aligned with France's unique business environment
Access actionable insights and data-driven strategies to enhance your in-house HR operations
HR Compliance & Legal Support
Ensure full compliance with France's intricate labor laws and regulations
Mitigate the risk of fines and legal complications through diligent support
Implement employment contracts that align with French labor law and workplace norms
Recruitment & Talent Acquisition
Discover exceptional talent for your expansion into France
Gain a thorough understanding of the French job market and its dynamics
Leverage multilingual support to attract top-tier candidates
Employee Onboarding & Offboarding
Streamline and optimize all onboarding processes for new employees
Create robust and compliant documentation for a seamless onboarding experience
Fulfill mandatory employment reporting requirements in France and the EU
Adhere to France's obligatory exit procedures when offboarding employees
Training & Development
Identify and bridge gaps in your training systems effectively
Tailor your training & development programs to suit the local French workforce
Focus on enhancing specific skills crucial for your workforce's success
Employee Engagement & Retention
Craft engaging initiatives aligned with the unique needs of your French workforce
Analyze and address factors contributing to employee attrition
Foster a positive workplace culture to boost employee morale and retention
Performance Management
Implement culturally sensitive performance appraisal systems that drive excellence
Set clear objectives to optimize employee performance
Provide meaningful and constructive feedback to enhance employee growth
Effectively manage improvement plans to drive individual and organizational success
Employee Relations & Conflict Resolution
Skillfully mediate conflicts between employees and supervisors
Address grievances promptly and professionally
Resolve workplace conflicts or issues to maintain a harmonious work environment
Payroll Processing & Benefits Administration
Ensure accurate payroll processing adhering to France's tax regulations
Guarantee timely and efficient payments to employees
Manage employee benefits, including enrollment and communication with local providers
HR Reporting & Analytics
Deliver detailed and insightful HR reports to your UK or US parent company
Gain valuable insights into your French workforce for data-driven decisions
Facilitate evidence-based strategies for HR and business development
HR Technology & Systems
Provide expert support for the implementation and integration of HR software
Ensure full compliance with French and European data protection regulations
Meet all local, national, and European reporting requirements related to HR technology
Again, this list doesn't cover everything Europe HR Solutions can do for you, but it's a great starting point of the tasks you may want to outsource to make your expansion into France easier and way less stressful.
Expanding into France: FAQs
For more than two decades, Europe HR Solutions has played a crucial role in supporting over 200 US and UK companies as they expand their operations, undertake acquisitions, and initiate startups in Europe, including France. Our vast experience has exposed us to a myriad of HR outsourcing in France inquiries, which we adeptly handle with expertise and efficiency.
What challenges will our business face when we expand into France?
One of the biggest and most important challenges that companies face when they expand into France is complying with the many different labor laws in France and the EU. France has notoriously complicated labor laws.
Outsourcing your HR services is a great solution to this problem, though. We can protect you from making expensive, time-consuming mistakes that violate French and EU laws.
What kinds of labor laws will I have to follow in France?
Expanding into France means that you will now have to follow three sets of laws: the laws of your original country (US or UK), the EU, and France.
These are some of the laws that are specific to France:
The minimum hourly wage is €1,747.20 per month for employees that work the standard French 35 hour work week.
Be prepared for the minimum wage to increase every January.
For the first 8 hours worked over 35 per week, French workers are compensated at 125% of their hourly wage. Any additional hours are compensated at 150%.
Overtime hours are only available if your company's collective bargaining agreement permits employees to work beyond 35 hours a week.
Your French employees are entitled to: pensions, paid sick leave, vacation entitlement, overtime pay, maternity and paternity leave, adoption leave, 11 paid federal holidays, and healthcare benefits.
You can only terminate an employee relationship on voluntary personal grounds (misconduct issues), involuntary personal grounds (failing to perform job duties), economic grounds (financial difficulty at the company).
This list is not exhaustive, of course! We hope it shows that there are likely many differences in the laws you are accustomed to following and the ones you will have to start following in France.
Why You Should Work With Europe HR Solutions
Europe HR Solutions provides comprehensive multilingual HR support, seamlessly connecting your US or UK enterprise with your ventures in France.
With a proven track record of successful partnerships with US and UK clients, we possess the expertise to accelerate your expansion into France, ensuring compliance to avoid costly fines while optimizing time management.
We skillfully handle the complexities of HR systems, allowing you to focus on other critical aspects of your expansion process.
Are You Ready to Learn More About HR Outsourcing in France?
Whether you are ready to expand or just starting to think about a European expansion, contact Europe HR Solutions to learn more about how we can support your growth!
HR Brochure
Download our brochure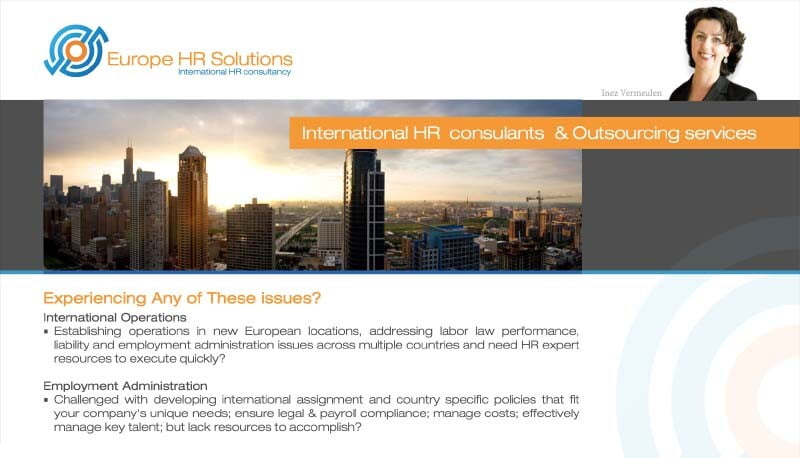 Our Brochure
Learn more about the services offered by Europe HR Solutions.