Your partner in HR
Haven't got the time, expertise or resources to complete your human resources policies, procedures & contracts? We can do them for you! Europe HR Solutions can provide you with the option of taking away all of the hassle, additional work, and cost associated with the development of your policies, procedures, and employment contracts.
We have ready-made HR policy and procedure content and contracts that you can use off-the-shelf or we can design a set of policies, procedures and contracts that are unique to you that are developed around your specific requirements and needs.
What our HR professionals can do
Here are some examples
Employment contracts
Grievance
Disciplinary
Long term illness
Attendance
Recruitment, selection and appointment
Training and development
Staff development
Redundancy
Conflicts of interest and ethics
Probationary period
Performance management
Travel and entertainment
Expenses
Termination
Maternity leave
Paternity leave
Compassionate leave
Annual leave
Pay
Pension
Data protection
E-mail and internet use
Health and safety
Occupational health
Temporary appointments
Our policies, procedures & employment contracts are legal proof for every local country and written in English and/or your local language.
Image by Andrea Piacquadio
Case Study:
Policies & Procedures
AngioDynamics Inc – Medical Devices organization
The Brief:
The med devices organization AngioDynamics was an amalgamation of a number of different local organizations with no or different terms and conditions. Our European human resources consultant was tasked with developing a new set of HR local and international policies.
The Solution:
In order to achieve the highest degree of efficiency, our consultant established a relationship with a number of key players across the organization who undertook the final reviews and decision making.
Our human resources consultant audited their current situation, proposed newly developed policies & HR procedures at local and international level. She trained local business managers and HR administrative people how to use the newly developed policies and procedures.
The Outcome:
The client received a full suite of HR policies and procedures, which had been agreed upon by all sides prior to implementation. The difficulty of consultation was minimized by bringing in an external consultant.
The existing staff, who were already busy developing all aspects of the HR system, were not pulled from their own projects in order to develop these policies, but they still had the opportunity to be involved in the process.
HR Brochure
Download our brochure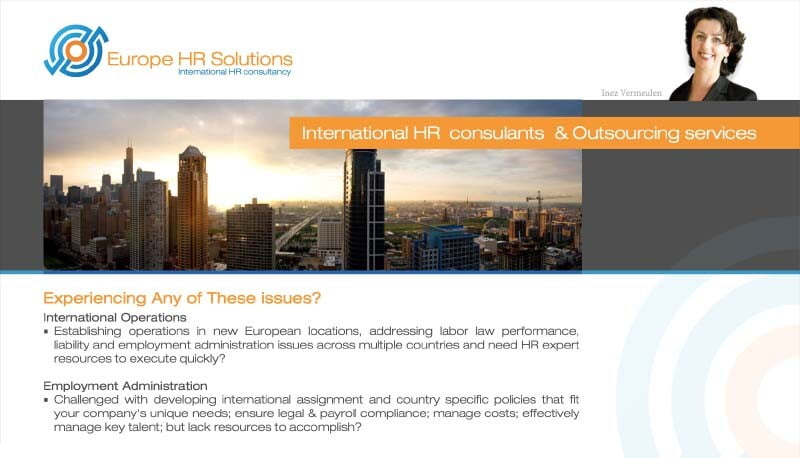 Our Brochure
Learn more about the services offered by Europe HR Solutions.