Preparing your business for European expansion can prove exciting, successful, overwhelming, and stressful — often simultaneously. If you're a US or UK business owner, the current policies and procedures you currently have in place for your employees may not comply with the labor laws of countries in Europe.
Compliance with the European Union (EU), national, and regional employment regulations and labor laws is vital to ensure your company's successful growth. Whether you choose to hire remote teams or inhouse staff, you need to build a solid Human Resources (HR) foundation to create a healthy, thriving workplace.
Outsourcing HR audit services and other fundamental HR tasks for companies expanding into Europe may provide numerous benefits. Let the knowledgeable team at Europe HR Solutions conduct your HR audits so that you can focus on the big picture and grow your company.
What you need to know about HR audit services
If you've already launched a small or mid-sized company in the US or UK, then you know that HR audits are a vital component to reflect on your company's best practices and opportunities for growth.
A well-managed, yearly company audit can be the difference between struggling or flourishing in the European expansion of your business. Let's take a look at the definition and importance of HR audits, the different types of HR audits, how Europe HR Solutions can help, and whether or not you should outsource your HR audit services.
What is an HR audit?
Different types of HR audits
Why HR audit services are important for European company expansion
How Europe HR Solutions can help
Why you should outsource HR audit services
HR audit checklist for companies expanding into Europe
Contact Europe HR Solutions
What is an HR audit?
Every business requires HR tasks, and you should ensure that your US or UK business has well-established HR practices in place before you expand your operations to Europe. However, the nuances in each country's culture and business practices may mean you need to make some changes to the practices you implemented at home.
An HR audit is a way to objectively look at the policies and procedures you've created and how they contribute to the success or stagnation of your company. However, you'll have to determine what type of HR audit you need to correctly assess your employees and internal practices.
For example, if you primarily employ remote talent, your policies and procedures may look vastly different than if you have a full in-person team.
Different types of HR audits
At Europe HR Solutions, we understand that you may need custom HR audit services that will allow you to assess specific areas of your company so that you can address any concerns or necessary changes.
Some of the different types of HR audit services you may need include:
Best practices audit
A best practices audit allows you to compare the practices you've implemented as your company expands to Europe.
Whether you outsource this type of HR audit or choose to have an inhouse HR department conduct it, it will analyze, compare, and contrast your practices with other companies in your market operating in the European countries where you've chosen to expand.
Compliance audit
Compliance audits are among the most important audits for your company. Your outsourced or inhouse HR team should regularly conduct a compliance audit to ensure your company adheres to the employee regulations and labor laws in place in any European country you chose to establish your business.
Labor laws can constantly evolve, and if you fail to comply, you could find your business the target of lawsuits, legal sanctions, or even closure.
Culture audit
An HR culture audit allows you to see the strengths and weaknesses of your workplace culture and find ways to improve it or enhance the positive aspects of your work environment. Outsourcing HR for a culture audit can allow you to gain an important outsider's perspective.
Function-specific audit
You may find that as you establish the European expansion of your company, you need to focus on one specific area of HR to audit.
For example, perhaps you feel your benefits implementation or payroll practices need to be audited. An outsourced HR team can perform a function-specific audit for you.
Job description audit
If you find that your job descriptions need constant updating or don't contain enough appealing keywords to attract top-tier talent, you may need HR professionals to perform a job description audit.
Policies audit
Your internal policies should remain consistent and customized for the type of workforce you employ. As your company grows from a small to a middle-sized business, you may find that additional operational policies need to be implemented.
An HR policies audit can pinpoint where your employee handbooks and procedures need to be changed or enforced.
Strategic audit
A strategic audit is a comprehensive look at all of your HR practices and needs. This audit will help you to determine how your HR policies are currently implemented and where you need customized HR solutions in the future.
Recruitment (talent acquisition) audit
It's important that you have a plan to help you attract the best talent fits for your company needs. An HR team can perform a talent acquisition audit to discover where your open position promotions and hiring processes may need improvement.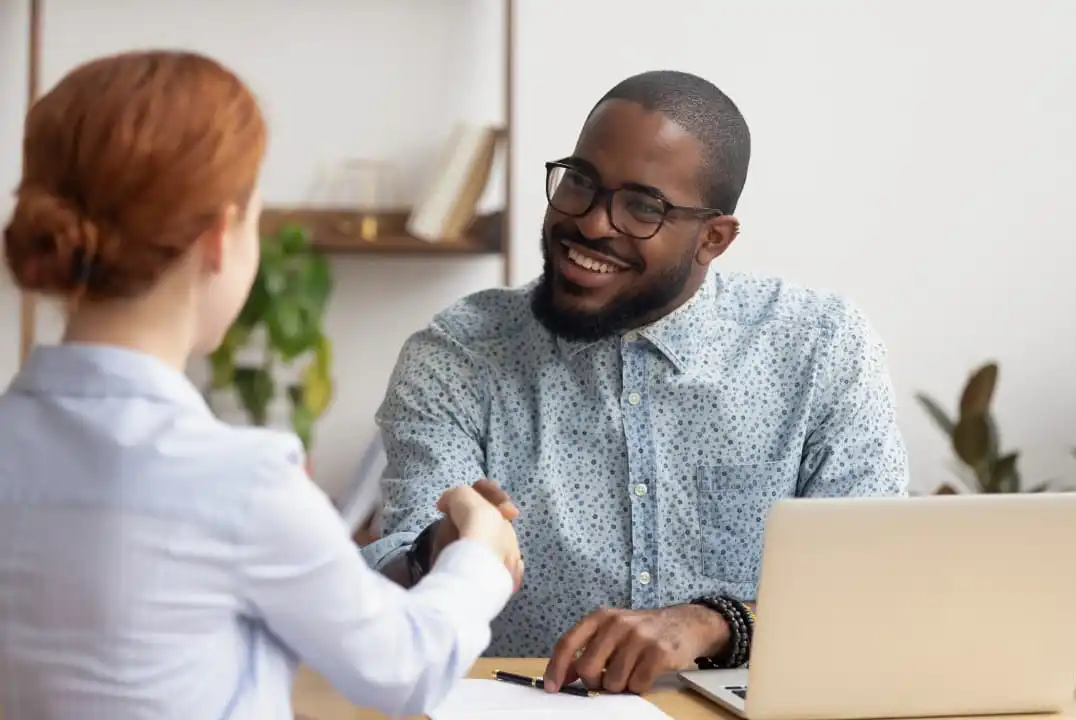 Why HR audit services are important for European company expansion
In order to position your US or UK company for expansion into Europe, you need to have excellent HR management in place. Strategic HR solutions should be shaped around your company's mission and values, comply with European labor laws, and should give your employees a clear vision of their job duties.
HR audits can accurately assess the specific areas where improvements or changes in procedures are necessary. An inhouse HR department can perform audit services, and many large companies turn to their HR department heads to implement audits. 
However, outsourcing HR audit services for US and UK companies expanding into Europe may provide fresh sets of eyes and an unbiased perspective. Assessments of specific culture and operations needs, labor law compliance, and policies and procedures should be conducted at least once per year.
How Europe HR Solutions can help
At Europe HR Solutions, we have provided HR audit services to countless US and UK companies expanding to Europe. We understand the HR and legal nuances that vary from country to country, and can provide the customized solutions you need to ensure your company's successful growth.
If you outsource your HR audit services to Europe HR Solutions, we can do the following:
Ensure highly-trained HR professionals are conducting your audits
Provide an assessment and baseline for your current operations and HR policies
Identify the excellent HR practices you already have in place and any areas in need of improvement
Point out any compliance issues with local employment regulations and labor laws
Discover and list any workflow issues
Discern if your company has any outdated or ineffective policies and procedures
Provide detailed suggestions on how to adhere to and comply with labor laws
Perform stand-alone or strategic HR audits
Why you should outsource HR audit services
HR audits are key elements to the success of US and UK companies preparing for European expansion. Regardless of which professionals you choose to conduct your audits, the end result should reflect necessary changes and room for operational growth.
Outsourcing your HR audit services offers you an outside, unbiased perspective that an inhouse team may be more reluctant to share. An outsourced HR team may be more apt to concretely point out constructive criticism that points toward actionable steps your company can take to succeed.
HR audit checklist for companies expanding into Europe
An HR audit is imperative as you expand your company beyond your US or UK borders, as it will help you successfully launch your European operations. Before you conduct an audit, it's important to discern what practices and procedures you should focus on.
 A checklist can help you prepare, and if you're outsourcing your HR audit, allow you to contract for your specific needs. Although the checklist may vary for function-specific audits, a general, strategic audit questionnaire can help get you started.
Here are some of the standard questions that should appear on your audit checklist and be answered with each audit:
Do your HR practices adhere to your company's mission statement and overall values?
What employee training programs do you have in place? Does each new employee undergo training?
Are your practices compliant with the labor laws in each country where your company operates?
How does the chain of communication operate within your team?
What is your recruitment process? Have you attracted the best talent to fit your needs? What is your employee retainment rate?
How do your recruitment processes and employee benefit packages compare to similar companies in your industry? Are they competitive?
Are your job descriptions accurate, appealing, and compliant with Europe labor laws?
Do you have an accurate employee handbook? Do you implement changes in the handbook when necessary?
Do you have HR policies in place that are in alignment with the specific culture and laws where you operate?
Do you have competitive salaries for each position within your business?
What benefits packages do you offer and how easy are they to access?
Are performance expectations clearly communicated?
Contact Europe HR Solutions
Europe HR Solutions has helped fill the HR needs of many US and UK companies that expand into European countries. We're well-versed in EU, national, and local labor laws and can help your company to meet compliance and remain within legal regulations.
We are passionate about helping you realize your dreams and seamlessly grow your global operations. Our professional team conducts HR audit services for companies expanding into Europe, and can provide the solutions you need for all of your HR needs.  
Whether you just need yearly audit services, or are looking for consultants to manage your overall HR, we can help. Let us alleviate your stress and take care of the compliance of your policies and procedures, onboarding and offboarding, talent acquisition, and employee training so that you can focus on the growth of your company.
Contact us for an initial consultation on HR audit services, and check out our blog for the latest tips and insights into HR in Europe.
HR Brochure
Download our brochure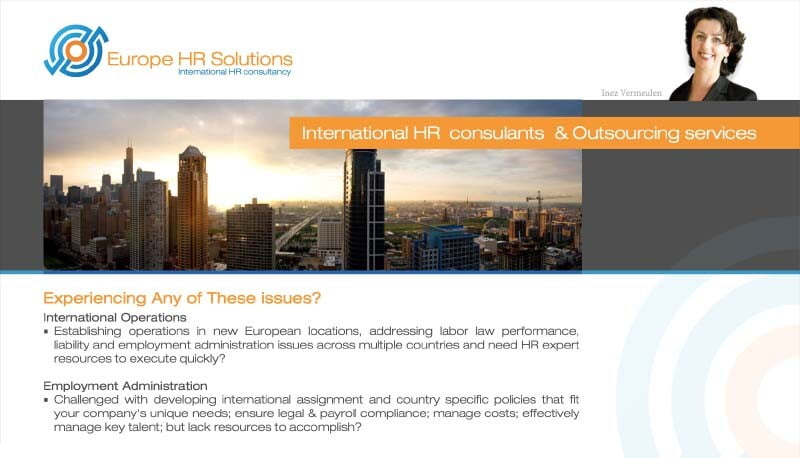 Our Brochure
Learn more about the services offered by Europe HR Solutions.