So you're looking to expand your company's European reach. You want to hire the best candidates to ensure the successful growth of your business. However, you don't feel like you have the time to dedicate to the process.
Should you hire an entire department to take care of the required recruitment and selection of talent management? Or, should you outsource your human resources management to professionals who are dedicated to the success of your company?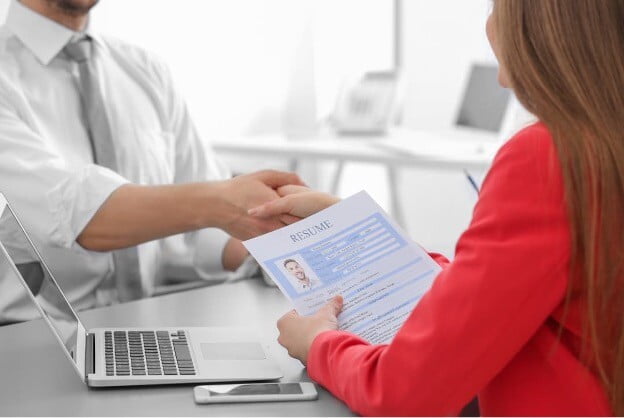 Talent Acquisition vs. talent recruitment
You may get lucky and find you acquire amazing talent simply through the mission statement and online presence of your company. However, if you aren't actively recruiting talent through strategic advertising and interview processes, you may feel disappointed in the lackluster results.
We offer an international search process and an in-depth interview & assessment process for a very competitive price. Recruitment and selection of the right person for the job is vital to your company's successful growth. If you don't have a structured plan, this process can prove time consuming and expensive.
Recruitment and selection in talent management is the first step in successful team-building and reputation management. You need to enter the hiring process with extreme caution. Issues that could arise include:
Unanticipated expense for selecting the wrong candidate
Unexpected legal hurdles
Violation of country or local HR laws
However, there's no need to panic. We'll help you find the best candidates for your employment needs and will ensure every step is taken in careful compliance with country and local laws. When we help you with talent management and recruitment, we'll dot your HR Is and cross your legal Ts.
We can help you with your one-off appointments or major recruitment drives. Whether you need us to complete the entire talent selection and recruitment process, or you just need help understanding talent acquisition vs recruitment and selection, we're here to help — no job is too big or small.
Europe Talent Selection and Recruitment: What You Need to Know
Talent recruitment management services offered by European HR Solutions
At European HR, we're passionate about helping our clients achieve successful growth and alleviating the stress that Human Resources Management can often involve. We don't consider any HR-related task too big or too small. If you need our help, we're in your corner. When it comes to talent recruitment and selection, we will tailor-make a plan that best suits your needs.
Some of the talent recruitment tasks our team of professionals can handle for you include:
Identification of requirements and needs of positions
Benchmarked salaries
Recommendations for qualified recruiters
Candidate screening
Candidate profiling
Long-list of applicants
Short-list of applicants
Interviews
Collection and verification of references
Design offer letter and contract of employment
Job analysis
Application and CV screening
Interviewer training
Recruitment assessment
Leadership potential and a motivational interview process
360-degree design and feedback
Development planning
Executive "top team" development & coaching
Succession planning
Talent recruitment and selection
Image by SHVETS production
A Case Study in Talent Recruitment Management
Recruitment and Selection – Medical Devices
European HR Solutions worked with an international medical devices company to fill the vital role of VP of Global Sales and Marketing. We were tasked to recruit talent and follow through until the position was filled. It was important that we attract only the best and most qualified candidates.
Here are some of the steps we took to ensure success:
Created a job description
We consulted the board and executives of the company to focus on the qualities and resume needed for potential candidates for the position of VP of Global Sales and Marketing. By drafting up a job posting and taking advantage of targeted advertising, we were able to attract and recruit top talent.
This also enabled the company's directors to concentrate on their day-to-day operational responsibilities. If they'd taken on the recruitment and added to their already high work level, they may have been distracted from the successful completion of both.
Selected candidates to interview
We then advertised the assessment methods that would be used in the talent interview process, including the presentation, structure of the interview, and the interview questions we would use. This allowed candidates to come prepared and solidified the recruitment of the best candidates.
For example, if an unqualified candidate somehow got through the screening process, they may have canceled the interview after recognizing that they would not deliver in the interview process. We then briefed the company board on our selection process and communicated with all potential candidates.
Created the service contract
We then drew up the offer of employment to the final candidate and went over the service contract documents with the soon-to-be VP of Global Sales and Marketing. We went over the confidentiality agreement with the recruited talent, and had them sign all related terms of employment.
Saw the process through to employment
The great news is after a panel selection, the final candidate accepted the VP position. The VP has seen continued success in their new role and the company has grown exponentially since they came on board.
Board members had full involvement in the recruitment and interview process. However, they didn't have to take on menial, onerous, or time-consuming tasks that often go hand-in-hand with that process.
We drew up the job qualifications, executed targeted marketing, and set up the interviews. The board was asked to contribute feedback on every step, and we had fantastic, open lines of communication to ensure we were taking the action they desired.
Contact Europe HR Solutions for recruitment help
Whatever your talent recruitment management needs are, Europe HR Solutions can help. We offer assistance to recruit talent for the one-off appointments that you might find difficult to schedule on your own.
We also help with talent selection and recruitment for major company-wide campaigns that require 100+ staff positions to be filled. We can help you to design and implement assessment tests to conduct your interviews and together, we can focus on a job's specifications.
If you're looking to grow your company by expanding to European countries, whether you're based in Europe, the US, or the UK, we've got you covered. Based in Belgium, Europe HR Solutions has worked with both small companies and large corporations worldwide to grow their international business and meet their Human Resources needs.
HR Brochure
Download our brochure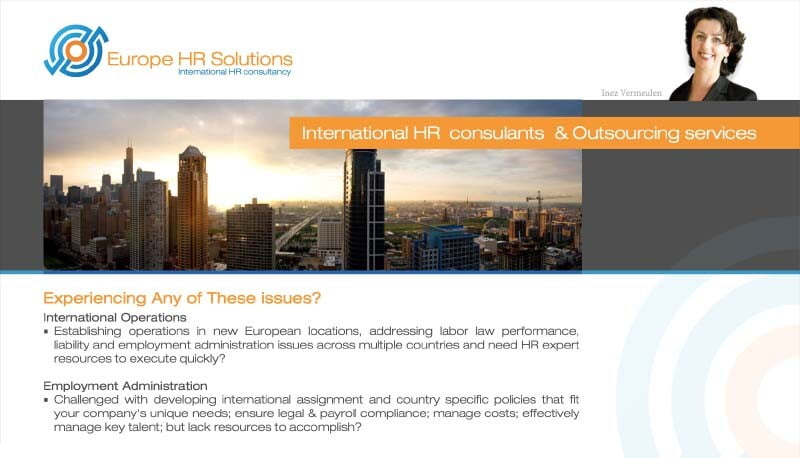 Our Brochure
Learn more about the services offered by Europe HR Solutions.