International business expansion for companies in the United States and United Kingdom can be an exciting but hectic process. When you establish your US or UK-based company in another country, you have to factor in cultural differences for your employees, among other business variances.
For example, the nuances in human resources (HR) and employment law can vary — even in individual European Union (EU) nations.
Known for its consistent ranking as one of the world's happiest countries, Denmark provides many exciting opportunities for US and UK businesses to grow and expand their reach. However, it's important to consider what aspects of your business should be developed inhouse and what work you should outsource.
HR outsourcing in Denmark can help US and UK companies to stay on top of employment laws and provide their teams with a phenomenal work environment. With a proven track record of HR support for US- and UK-based companies in European nations, Europe HR Solutions can help.
Why you should consider expanding your US or UK business to Denmark
If you're reading this, chances are you've already decided to set up shop in Denmark. We're here to reconfirm the wisdom in this decision. Your UK or US company may thrive in Denmark, and here are some of the reasons why:
Low business costs. The corporate tax rate in Denmark is lower than many of its European competitors. For example, the business tax rate in France is 28% and stands at 22% in Denmark.
Minimal language barrier. Danish school children learn English at an early age. Most professionals in Denmark read English and can speak the language fluently. In fact, an estimated 86% of Danish citizens speak English as a second language.
If a member of your team speaks Danish, that's an added bonus. However, you won't have to pour money into ensuring that all of your team members speak it fluently.
Promotion of work-life balance. Danish culture takes work-life balance seriously. You may find numerous benefits for both your team and your executives from less (yet more productive) hours than work consumes in the US and UK.
Provision of public childcare. Most parents in Denmark take advantage of the public childcare system. Your company will not have to offer childcare provisions, and can exclude this from your budget and employment needs.
Universal health care. All residents of Denmark (including non-citizens) are afforded the right to healthcare. As an employer, this means you will not have to partner with a health insurance carrier or spend time researching the best policy packages to offer healthcare coverage to your employees.
How Europe HR can meet your outsourcing needs
HR remains a vital component of corporate business worldwide. Many companies choose to employ an in-house HR team, and build an entire human resources department.
However, if you're a US or UK company looking to expand your business in Denmark, outsourcing your HR needs could be a wise move. By contracting a team of HR consultants well-versed in Denmark's employment and labor laws, you avoid the hiccups that may stem from a US or UK employee who is just learning the nuances of Denmark's regulations.
Europe HR Solutions has helped numerous companies in the United States and United Kingdom with their international HR needs. You can focus on your mission and the success of your European launch while we handle the minutiae.
When you outsource your human resources tasks to us, we can do the following:
Act as an extension of your company. When you retain the services of Europe HR Solutions, we represent you to potential and onboard employees. We will act as your ambassadors and ensure our HR strategies match your vision.
Assist with your project plan. Your expansion and HR plans will vary from country to country. We can offer you support in your projects in Denmark and beyond.
Identify your talent needs. We will work with you to identify your greatest talent needs and provide a detailed strategy to attract the right talent to the roles you need filled.
Implement policies and procedures. We can create a detailed employee handbook and cover every policy and procedure your company has in place.
Oversee employee and management training: We can help lead your employee and management training programs, including government mandated training and company-specific training.
Provide thorough legal knowledge. We understand the labor laws in Denmark and will ensure your company's policies and procedures adhere to these regulations.
Recruit employees. Whether you're looking to recruit in-office or remote employees for your Danish offices, we have access to the best talent pools and recruitment practices.
Give timely attention to ad-hoc requests. We're used to high-pressure, fast-paced work environments and understand the need to address urgent requests. We can take care of your requests and offer a same day turnaround time.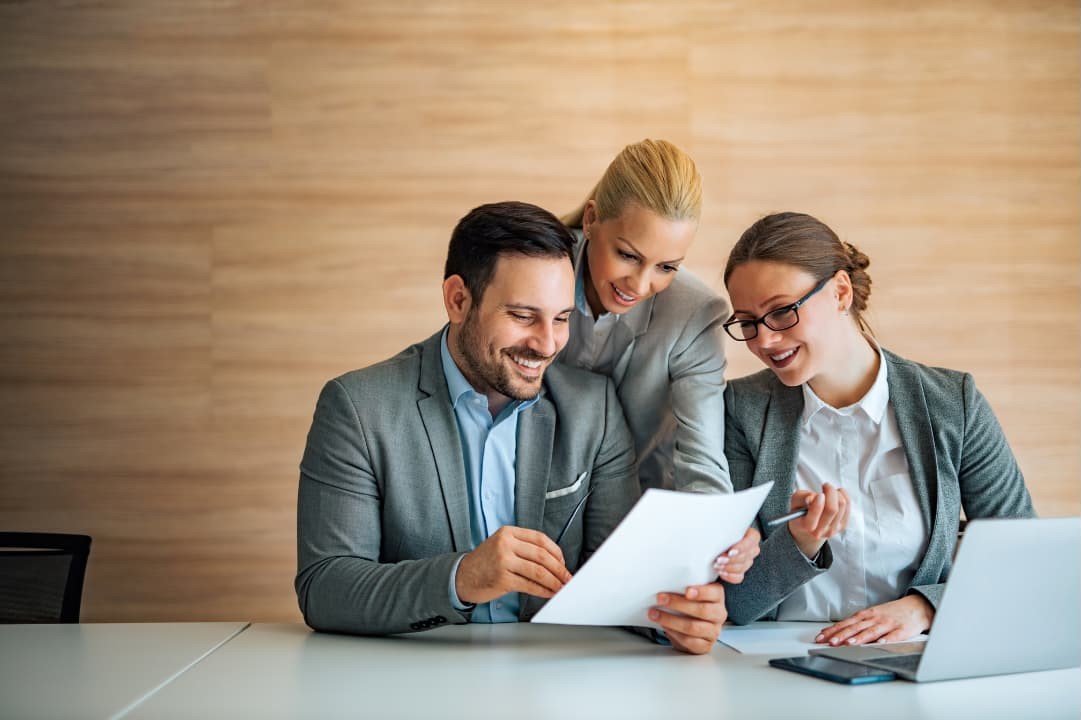 Challenges of doing business in Denmark
In 2023, the World Bank ranked Denmark as the European country with the easiest business regulations. Over the past decade, Denmark has also remained in the top five European countries on the World Bank's annual report.
Nevertheless, although Denmark provides a fantastic infrastructure and ample opportunity for US and UK companies who want to expand their brands, there are challenges to doing business here as well. Europe HR Solutions can help you to meet and conquer those challenges, and to focus on the success of your company.
Some of the HR challenges faced by US and UK companies in Denmark include:
Compensation of employees. Many professional positions in Denmark offer higher compensation than their US and UK counterparts. The 46.3 % income tax rate in Denmark is considerably greater than that in the US (24.5%) and salaries are commensurate.
Contract comprehension. Along with labor laws, it's vital that you adhere to Denmark's business contract regulations. Danish contracts are completed in a shorter amount of time than business contracts in other countries and do not adhere to the concept of consideration.
Cooperation versus aggression. Equality and working harmoniously toward a common goal are an integral part of Danish business culture. Although this can be a core value in US and UK companies as well, overall aggressively pushing toward a corporate goal holds higher value in the US and UK than in Denmark.
Holidays. In Denmark, under the Closing Days Act, large corporations and small businesses alike give their employees ample time off for many holidays.
Onboarding, recruitment, and training. Without professionals who hold ample experience in Danish HR, talent acquisition can be a tough challenge to overcome.
Employees in Denmark are looking for the benefits provided by most Danish companies (which vastly differ from common benefits offered by US and UK companies). In Denmark, employee training is also considered a major, vital investment.
The role of HR in Denmark
The responsibilities of Denmark's HR professionals are similar to their US and UK counterparts. However, there is more of a focus on individuals and employees, as opposed to the overall company.
For example, an HR manager or consultant in Denmark might concentrate on ensuring an employee has ample parental leave, vacation time, and work-life balance.
Outsourcing HR in Denmark
Many United States and United Kingdom companies that expand to Denmark choose to partner with an outsourced HR firm to utilize the best possible human resources practices and methods. While outsourced HR may consist of transitional responsibilities, it can also promote employee satisfaction and help recruit top talent.
For example, an HR consultant may simply take over payroll and employee benefits administration. However, a great HR consultant could also help you create your employee training program, take care of the administrative duties of job opening promotion, and represent your company in the hiring process.
Contact Europe HR Solutions
At Europe HR Solutions, we understand the hurdles you face in international business expansion. We can help you by applying innovative HR solutions to your employment needs and allow you to focus on the big picture. We want to see each of our clients experience the growth and success they deserve.
If you need HR outsourcing in Denmark, Europe HR Solutions will work with you to implement human resources practices that adhere to the employment and labor laws in Denmark. We understand Danish business culture and the ways in which it varies from US and UK business culture.
Your HR needs serve as our biggest priority. We pride ourselves on our ability to help companies undergoing international expansion and infrastructure changes, and would love to explore all possible solutions with you.
Contact us for a free consultation to discover how we can serve your HR outsourcing needs. If you have questions about the nuances of HR in European business expansion, be sure to check out our blog for insights and tips.
HR Brochure
Download our brochure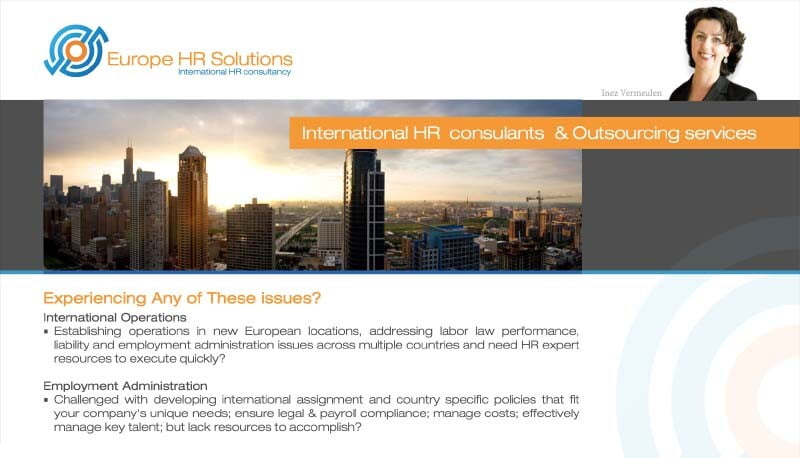 Our Brochure
Learn more about the services offered by Europe HR Solutions.