Do Small Businesses in Europe Need HR Support?
Yes, small businesses in Europe need human resources support. In fact, you can greatly benefit from it. HR support helps small businesses:
Effectively manage your human resources
Navigate complex employment laws and regulations,
Develop HR policies and procedures
Ensure compliance with labor laws
Handle employee relations and disputes
Recruit and onboard new employees
Provide training and development opportunities
Administer payroll and benefits
Offer overall strategic HR guidance
Having HR support can help small businesses streamline their HR processes, maintain legal compliance, and create a positive work environment for their employees.
Why Do Small Businesses in Europe Outsource HR?
Small businesses in Europe often outsource their human resources needs to HR consulting firms for several reasons:
Expertise
HR consulting firms specialize in HR management and have extensive knowledge and experience in the field. We stay updated with the latest laws, regulations, and best practices, which can be challenging for small businesses to keep up with on your own.
Cost-efficiency
Outsourcing HR eliminates the need to hire dedicated in-house HR staff, which can be costly for small businesses. Our HR consulting firm offers flexible services tailored to the specific needs and budget of your business, providing cost-effective solutions.
Time-saving
Managing HR functions internally can be time-consuming for small business owners who already wear multiple hats. Outsourcing HR tasks to us allows you to focus on core operations and strategic initiatives, while leaving HR-related responsibilities in the hands of professionals you can trust and rely on.
Compliance and risk management
Our HR consulting firm helps small businesses navigate complex employment laws and regulations, reducing the risk of non-compliance and associated legal issues. We assist in developing HR policies, procedures, and employment contracts that align with the legal requirements in your country or the countries where you have employees.
Scalability
As your small businesses grows, your HR needs will evolve. Our HR consulting firm offers scalable solutions, adapting our services to accommodate the changing requirements of your business, such as recruitment, onboarding, performance management, and employee training.
Employee relations and conflict resolution
Our HR consulting firm provides guidance and support in handling employee relations issues, conflict resolution, disciplinary actions, and performance improvement plans. Our expertise will help you maintain a positive work environment and minimize potential disruptions.
Overall, outsourcing HR to our consulting firm will allow your small businesses to access specialized HR expertise, reduce costs, ensure compliance, save time, and focus on core business operations. We provide a valuable resource for managing human resources effectively and efficiently.
How HR Impacts the Stages of Small Business Growth
Overall, human resource's impact on small business growth is multifaceted. By effectively managing HR functions, you can attract and retain top talent, optimize employee performance, and navigate the challenges associated with growth at each stage.
HR plays a significant role in each stage of small business growth in Europe. Here's a breakdown of how HR impacts each stage:
Startup: In the startup stage of launching your small business in Europe, the main goal is to create, improve, and verify your product. At this point, you have two options to expand internationally: either through distributors or by hiring your first business development employees. Human resource is crucial for recruiting and hiring the right talent to build the foundation of the business. 
Validation: You may need to expand your infrastructure to meet the requirements of this stage. HR supports the validation stage by facilitating employee engagement and creating a positive work culture. It focuses on training and developing employees to ensure they have the necessary skills to support the business's growth. 
Expansion: As the business expands, HR becomes vital in managing workforce scalability. It assists in strategic workforce planning, identifying staffing needs, and implementing effective recruitment and selection processes. HR ensures compliance with employment laws and regulations as the business enters new markets and jurisdictions.
Growth: HR's role during the growth stage expands further. It focuses on performance management, establishing goal-setting processes, and implementing performance evaluation systems. HR also supports employee development initiatives such as training programs and career advancement opportunities. Additionally, HR may assist in organizational restructuring and building effective teams to support growth objectives.
Maturity: In the maturity stage, HR plays a critical role in talent retention and succession planning. It focuses on employee retention strategies, implementing competitive compensation and benefits programs, and fostering a positive work environment. HR also supports knowledge transfer and succession planning to ensure continuity and leadership development within the organization.
Exit or Renewal: During the exit or renewal stage, HR is involved in managing organizational changes. In cases of business sale or succession, HR facilitates the transition of employees and ensures compliance with legal requirements. In renewal scenarios, HR may help in identifying skills gaps, retraining employees, and realigning HR strategies to support new business directions.
Your employees' talents and skills drive your business success. And in smaller businesses, the hiring decisions you make can have a much bigger impact on your overall business health. This is why it's essential that an HR professional helps you as you build and grow your company.
Our HR Services For Small Businesses
(1-150 people throughout Europe)
Country-specific labor law expertise
Design and implementation of employment contracts
New hire and termination process and procedural assistance
Country-specific benefits management
Collective Health care plans: medical, dental and vision
Death & disability group insurance
Short-term and long-term disability insurance
Pension benefits
Employment administration
Payroll processing
Payroll record maintenance and management
Payroll compliance
Online pay stubs
Payroll management reports
Employment verification
PTO accruals
Training and development
Leadership development & coaching
Performance management support
Performance appraisals
Compensation resources and tools
Supervisor coaching
Job descriptions
Reward and recognition
Base pay structures
Employer liability management
Workers' compensation plan coverage
Employment practices liability insurance
Safety review
Employee handbooks
Termination assistance
Employee relations
Recruiting and outplacement support
Job description development
Wage and salary surveys
Process review
Interviewing and selection training
Online interviewing and selection training
We Are Your Small Business's Dedicated HR Help Desk
If you have any questions regarding specific country laws, employee relations, policies, procedures, employment contracts, or any HR services or HR outsourcing inquiries, please reach out to Europe-HR-Solutions.
Our small business human resources experts specialize in providing best-practice HR and business consultation, enabling you to make informed and compliant decisions. Are you ready to grow your small business? We are here to help.
HR Brochure
Download our brochure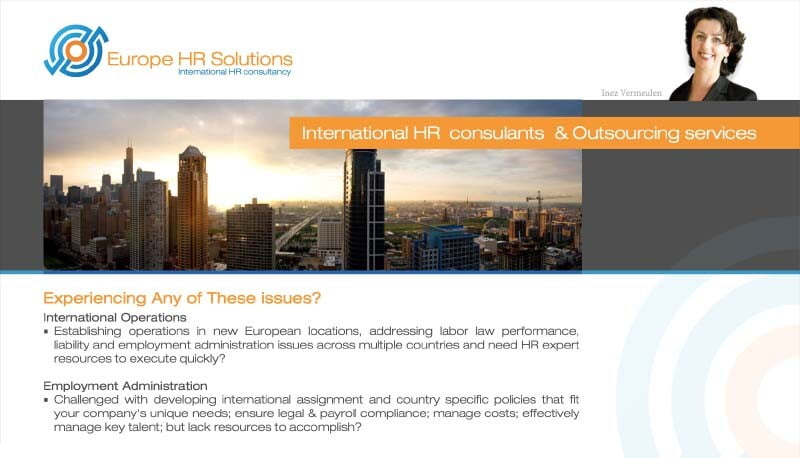 Our Brochure
Learn more about the services offered by Europe HR Solutions.