The primary objective of the first stage of your business is to develop, refine and validate the product with very early adopters. During this stage, you are considering to run your international business through distributor channels or to hire your first business development employees. The primary objective in the second stage is to validate the market's acceptance of the product by going after additional early adopters and broadening the customer base. At this stage of the company's development these should be considered interim decisions, and the infrastructure should only be expanded as is necessary to meet the needs of this stage. The decisions management will begin thinking about run the gamut from product extensions, to distribution, to manufacturing, to development, to target market expansion, to raising new capital to fund growth, etc.
Your employees' talents and skills drive your business success. And in smaller businesses, the hiring decisions you make can have a much bigger impact on your overall business health.
HR Help Desk – Email Europe-HR-Solutions whenever you have questions about specific country laws, employee relations, policies, procedures, employment contracts or any HR services or HR Outsourcing questions. Europe-HR-Solutions will provide you with best-practice HR & Business consultation to help you make informed, compliant decisions.
Our HR Services For Small Businesses
(1-150 people throughout Europe)
Country specific Labor Law expertise
Design and implementation of employment contracts
New hire and termination process and procedural assistance
Country specific Benefits management
Collective Health care plans: medical, dental and vision
Death & Disability group insurance
Short-term and long-term disability insurance
Pension benefits
Employment administration
Payroll processing
Payroll record maintenance and management
Payroll compliance
Online paystubs
Payroll management reports
Employment verification
PTO accruals
Training and development
Leadership development & coaching
Performance management support
Performance appraisals
Compensation resources and tools
Supervisor coaching
Job descriptions
Reward and recognition
Base pay structures
Employer liability management
Workers' compensation plan coverage
Employment practices liability insurance
Safety review
Employee handbooks
Termination assistance
Employee relations
Recruiting and outplacement support
Job description development
Wage and salary surveys
Process review
Interviewing and selection training
Online interviewing and selection training
Brochure
Download our brochure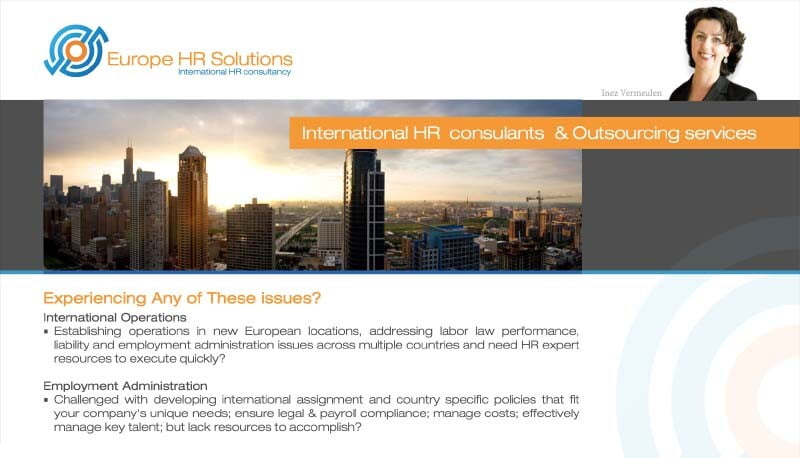 Our Brochure
Learn more about the services offered by Europe HR Solutions.