Although the human resources manager for most for-profit companies needs to keep an eye on the company's profits, HR in nonprofits must remain mission-driven. They must keep the heart of the organization beating strong and each employee moving in rhythm.
Understanding the complexities of HR in Europe is not the reason you started a nonprofit. You want to spend your time focusing on things like fundraising, community outreach, managing growth challenges—all to advance your mission. By outsourcing your HR, operational and administrative functions are firmly in place and running smoothly, so you can focus on what you're passionate about—purposeful work.
Every day, nonprofits rely on dedicated staff and volunteers to accomplish their mission. Yet, most nonprofits do not have a designated HR person. Of those that do, the HR person often does not have any formal training in human resources! So, if you have questions about HR issues, you are not alone!
Why Human Resources Is Important for Nonprofits
In simplest terms, the HR (Human Resources) department is responsible for managing the employee life cycle (i.e., recruiting, hiring, onboarding, training, and firing employees) and administering employee benefits. HR also handles issues like workplace conflict resolution.
Do nonprofits need HR?
Most small nonprofits do not have an in-house HR department, but the HR department of a nonprofit still plays an essential role. Recruitment, hiring, screening, and compensation are all key components of human resources. Each of these components contribute to the successful growth and general workplace atmosphere for nonprofit staff and volunteers.
Incorporating dedicated human resources professionals into your internal operations is critical if you want to hire, train, effectively compensate, and retain talented employees for your nonprofit — employees who are satisfied with their jobs and contribute to your organization's goals.
Ways HR Can Help Your Nonprofit Organization
What does HR consulting do for nonprofits in Europe? HR in nonprofits essentially operate in the same manner as HR in for-profit organizations. Some of the ways in which HR can help your nonprofit reach your business goals include:
Talent recruitment and acquisition:
Finding and recruiting the right, talented people to join your nonprofit team is vital. Whether you outsource your HR or choose to hire an inhouse, dedicated HR team, these professionals can study trends in talent acquisition and find the right candidates for your open positions.
Create competitive compensation packages:
HR professionals can analyze market trends and research compensation offered for comparable openings in other nonprofits to ensure you attract the right talent.
Retention strategies:
Your HR team can also come up with effective strategies and actionable plans to retain your top-tier talent.
Workplace policies:
An HR team will also update or create necessary workplace policies to provide a safe, productive, and mission-driven environment for your employees.
Human Resources challenges for nonprofits
Let's imagine your organization is going through a transitional period — perhaps you've expanded your operations into other countries, or have experienced quick growth and a change in leadership. You should view these transitions as a fantastic opportunity to change or update any human resources management, policies, or structures in need of improvement.
Specific examples of nonprofit challenges that require HR consulting support include:
Retention and recruitment:
In 2023, the U.S.-based National Council of Nonprofits found that since the COVID-19 pandemic began in 2020, there is a crisis of staff shortages facing nonprofit organizations.
According to the Society for Human Resource Management, the turnover rate in nonprofits is 19% — 7% higher than the labor market average of 12%. A great HR team can stop your nonprofit from hemorrhaging employees.
Budget issues:
HR professionals can help you implement cost-effective training programs and benefits packages to ensure you don't go over your budget.
A lack of concrete policies and procedures:
Many nonprofits wait to develop HR policies and procedures until they've solidified their operational status or experienced exponential growth. These policies provide a basis for how to take care of your nonprofit team when external issues (such as the COVID-19 pandemic) hamper your organization's operations.
A solidified HR plan used as a foundation for your employment practices can save your nonprofit money and a lot of stress. An HR team can design your job descriptions, analyze and set up compensation levels, and help you to effectively manage the performances of your team members. As a result, you'll experience lower turnover.
Nonprofit organizations have employees, so they face HR challenges just like for-profit organizations. These challenges can be related to recruitment and retention, performance management, employee relations, compensation and benefits, and anything else that impacts the employee in the workplace.
How HR outsourcing can help nonprofits
Small to mid-sized nonprofits can benefit from outsourcing their human resources needs to HR consulting firms rather than hiring an entire inhouse human resources department for your nonprofit in Europe.
The top HR challenges for nonprofits that can be overcome by HR outsourcing include:
Country, Federal, and State Regulatory Compliance:
Each region has its own nuances when it comes to the laws surrounding human resources. If you're looking to expand your nonprofit, an outsourced, local HR consulting team will be able to provide thorough knowledge of these laws so that you can focus on your important mission and vision.
Administration of Benefits:
Again, an outsourced, local HR team will have an understanding of the benefits anticipated by employees in that area. These professionals can determine what your employee benefits packages should include.
Staffing:
If you need temporary workers, local HR consultants will have existing relationships with staffing agencies. They'll also know the best places to actively recruit talent. An outsourced HR team will help you discern which job candidates are aligned with your nonprofit's mission and goals.
Who We Are: Europe HR Solutions
At Europe HR Solutions, we're passionate about offering consulting services that help companies grow, achieve success, and expand from U.S. and U.K.-based operations to European offices. We have extensive experience and knowledge of the HR issues nonprofits face in Europe, and we're committed to helping you find and retain the right talent for your needs.
Let us help you realize the vision you have for your nonprofit. Connect with us today.
HR Brochure
Download our brochure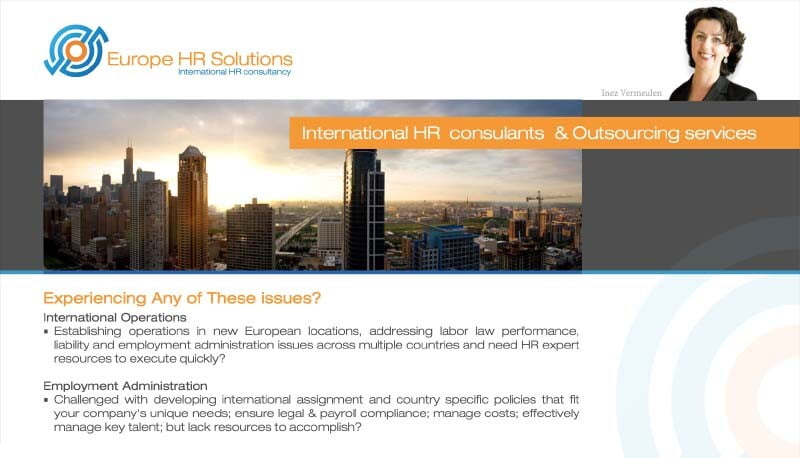 Our Brochure
Learn more about the services offered by Europe HR Solutions.