Outsourcing your Human Resources may be one of the most important management decisions you will make this year. As you expand your business in Europe, you need knowledgeable support. Utilizing an outside HR consultant or manager can help you to optimize your global HR function with a European virtual HR expert.
HR outsourcing is the process of contracting with an outside vendor to manage all of your human resources tasks. The goal of outsourcing is to ensure that all of your HR processes are streamlined, well-managed, and efficient.
The biggest benefits of international HR outsourcing solutions? It's that you get to focus on the important work of running your business and increasing revenue, rather than worrying about things like compensation, payroll, job training, and recruitment.
You may also see significant cost reduction through HR outsourcing as you can hire on a contractual basis and won't have to worry about recruiting talent for an entire inhouse HR department.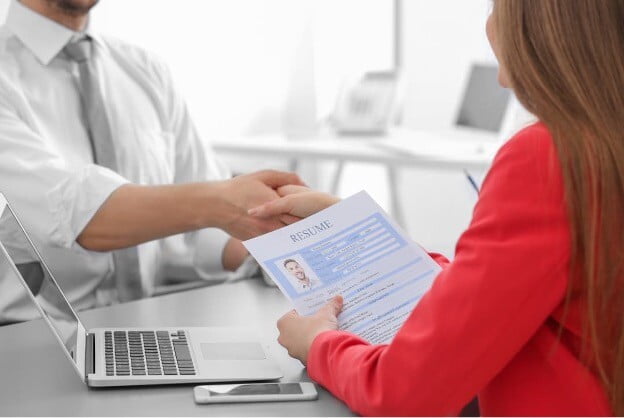 Image from Canva
Human Resources Outsourcing: The Basics
There are a number of contract options for outsourcing your HR, including:
Annual contract
Multi-year contract
Interim HR services
Short-term contract
Services available on retainer
Project-based contract
Many companies choose to sign an annual or multi-year contract with an HR company. Representatives from the HR company will then take over most or all of the business's day-to-day HR responsibilities.
Some will also choose to go the outsourcing route as a temporary solution to an urgent need.
Your newly-contracted HR manager can come to your workplace to conduct business on-site for a number of predetermined days per month or conduct all work remotely.
This is an ideal solution for companies that have grown quickly and need more HR support but aren't interested in hiring a full-time Human Resources department.
Although there are costs associated with outsourcing your human resources, these costs are much lower than hiring a full-time HR manager or an entire HR department.
Your outsourced HR manager will take over as many of the tasks as you want them to. If you feel really connected with one particular HR task, you can always ask for a contract that allows you to continue to do that work, while the HR rep takes over everything else.
What can your outsourced HR manager do?
Your HR representative can do everything an in-house HR manager can do, but with a much smaller line in your budget.
Some of the responsibilities that you can assign to your HR rep include:
Setting up payroll (including with local and international partners)
Managing your company's HR help desk (via email)
Setting up benefits schemes that align with local laws in any country where you have employees or contractors
Writing employee handbooks, policy overviews, and procedural guides
Managing personnel administration tasks
Screening and assessing job candidates
Onboarding new employees
Ensuring that employment contracts are clear and on file
Analyzing gaps in your training procedures
Conducting training for all or some of your employees
Improving your business performance
Taking care of employment terminations, severances, and retirements
Benefits of HR Outsourcing
The benefits to outsourcing your HR are plentiful.
Take a moment and imagine what it would look like if those tasks listed above were suddenly taken off your list of responsibilities. What a relief!
Next, think about how much more work you could get done if you didn't also have to tackle those human resource tasks. HR outsourcing for small business growth can be a pivotal step toward expanding your business and alleviating your stress. Not only would you be less stressed, but you would also be able to do more of the work that is important to you.
When your HR tasks are managed by an experienced professional HR consultant, you can dedicate more time to the work that makes your company successful. HR is an essential part of your business, but it doesn't have to take up so much of your mental energy, your time, or your budget. Understanding the benefits of outsourcing international HR can help you to make an informed choice.
3 key advantages of hiring an HR company
At Europe HR Outsourcing Solutions, we work with companies across numerous industries, throughout Europe. Our clients trust us to manage their staffing, payroll, and employee management work.
During our years in the HR industry, we have learned what an HR company needs to offer if we are going to stand out from the competition. This is what you should expect from your HR vendor:
Expect Speed. Your HR representative should be able to answer your questions quickly (in 24 hours or less). Before you sign a contract with an HR company, find out how long it will take for them to reply to your questions, concerns, or needs.
Expect Immediate Operationality and Exceptional Quality. Highly qualified HR consultants bring years of expertise to their work. There should not be any time gap between when you hire your HR team and when they get you up and running.
Expect Flexibility. HR companies with rigid policies and inflexible contracts are simply not going to serve their clients well. Your HR consultant should be able to serve you in any number of frameworks, including: ad hoc, interim, project-based, retainer-based, short-term, and long-term. Contracts should be adaptable to the unique needs of every individual business.
You don't have to contract with countless vendors.
One additional benefit of outsourcing your own dedicated HR team is that you don't have to hire multiple vendors. Instead of negotiating countless contracts with various service providers, you can hire a team that manages the work of multiple vendors, including:
Benefits consultants
Payroll vendors
Recruiters
Corporate and labor lawyers
Special Circumstances That Need Additional HR Support
In addition to the basic HR tasks that come with running a company, there are also circumstances in which special considerations need to be made.
Here are some examples:
Businesses that hire internationally or have employees across multiple countries
Small, new businesses that have to start from scratch
Businesses that have grown rapidly and need to scale up their HR departments
Very large businesses with failing, under-qualified, and likely expensive HR departments
A business has too many open positions, including difficult-to-fill openings
A company lacks clear and effective policies and procedures, causing confusion among executives and all other employee
Companies that are going to expand to Europe
Companies that are preparing for acquisition
Europe HR Solutions – Outsourcing HR Solutions for International Businesses
When you run an international organization, HR just gets more and more complicated. You need to have someone you can trust who understands the legal complexities of each country where your business operates.
Europe HR Solutions offers a cost-effective solution for all of your international HR concerns. We have been in business for more than 20 years, solving problems and creating solutions for European and international companies.
We pride ourselves in answering your questions quickly and effectively! We help both small and mid-sized companies who are already established in Europe or are planning to start doing business in Europe.
Contact us today for a free consultation.