Company Acquisition
Acquiring in Europe
Looking for answers on:
Strategic people implications of a M&A?
Due diligence?
Integration planning?
Preparation for pre-close, day 1?
Immediate & extended integration?
Integration do by close?
Cultural integration?
Due Diligence
While there are various levels of thinking during a due diligence process where each issue is influenced by the size of the deal, risk tolerance of acquirer and the acquirer familiarity with specific risk, the key HR potential issues to address are:
– Employment agreements: are there any large, excessive severance payments or informal benefit promises?
– Compensation & Benefit Plans: is there a large cost exposure? Are there unfunded or underfunded obligations? Are there any non-compliance issues?
– Payroll & salary Grade structure: how complex is the salary philosophy / structure? Is there a large number of Union employees?
– Short-term incentive compensation: are there guaranteed bonus payments or variance in eligibility between companies?
– Long-term Incentive compensation: are there a large number of unvested options outstanding that are ' out of the money'?
– Deferred compensation: are there large deferred compensation account balances with no funding or security?
– Staffing: what are the organizational & individual performance levels? What is the history of severance payment practice?
– Organization culture: are there any executive level differences – social issues?
– HR function: what type of systems, employee data, compliance issues, service delivery is there?
– Compliance: is there a high incidence of employment related litigation? is there improper investment or use of defined benefit pension fund? Are there a large number of temporary employees or contractors? Is there absence of employment related policies & procedures?
Related E-Book
Download this free E-Book
Acquiring in Europe
This E-Book is about the HR guidelines for Europe M&A.
HR Brochure
Download our brochure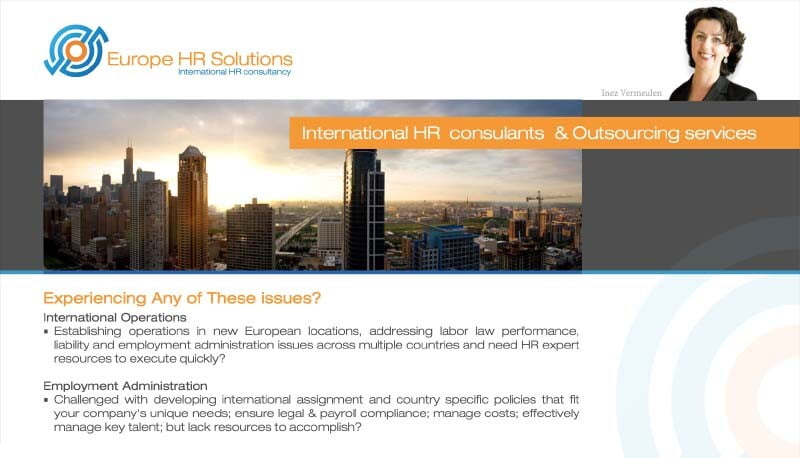 Our Brochure
Learn more about the services offered by Europe HR Solutions.