The primary objective in the third growth stage is the creation of a defensible market position. Having demonstrated broader market appeal in the previous stage, the company is now in a position to make longer run decisions on many fronts – people, infrastructure, product, geographic expansion, pace of growth, etc.
By this stage the company should have good validation of the market acceptance of its product and value proposition, a good idea of the target market and why they buy, and sufficient experience with a broad enough customer base to make a full scale sales and marketing effort productive. Attaining this goal is all about execution, particularly in sales and operations. This is the stage where you crank up the sales / marketing effort; you now have enough actual experience to build a sales and marketing "machine", making the investment in a large scale sales and marketing effort pay off.
With HR-Europe-Solutions you'll gain the tools you need to handle diverse HR challenges in this growth phase, without adding to your headcount. Best of all, you'll have the support of a trusted partner who understands your goals and mirrors your commitment to your business, your employees and your bottom line.
Empower managers to conduct performance reviews and to continuously improve business performance
Empower managers to use company policies, procedures and other employment-related information.
Help managers align compensation with performance through talent management tools.
HR-Europe-Solutions are designed to accommodate all mid-sized businesses – not by taking a one-size-fits-all approach, but rather by providing a tailored made support, depending upon your specific needs. Everything you need for workforce management with one HR Business Partner: One call for all your needs. One access point for all tools and services. One partner to coordinate it all.
Our HR Services For Mid-Size Businesses
(150 or more people throughout Europe)
Payroll Administration
Improve your business focus by reducing the burden of payroll administration. Europe HR Solutions will coordinate every aspect  so you can direct your energy to more important issues.
Payroll coordination
Country-specific payroll compliance
Employee expense reimbursement
Records management
Employee Benefits Plan Management
Attract and retain top talent by providing quality benefits packages. Europe HR Solutions will help you provide various insurance plans, retirement plans and other essential employee benefits.
Design
Education
Enrollment
Government Compliance
With Europe HR Solutions, you don't have to face employer liability issues alone. We'll help you manage your employer obligations more effectively and identify your risks for litigation.
Unemployment statutes/claims
Country-specific statutes
Implementation
Country legal entity set up & implementation
Employer Liability Management
Find relief from time-consuming legal paperwork and let us help you manage your risk. We'll act as your HR administrator, freeing you from tedious duties like handling workers' compensation issues.
Employee handbooks
Termination assistance
Outplacements
Workers' compensation
Employee relations support
Return-to-work programs
Country statute compliance
Recruiting and Outplacement Support
Hire the right people the first time with our reliable and efficient recruiting processes. Europe HR Solutions team of highly skilled recruiting professionals will work with you to develop the most effective recruiting practices for your company.
Job description development
Wage and salary surveys
Process review
Interviewing and selection training
Assessment
Performance Management Support
Get the tools to manage your people, help them set goals and evaluate their performance. Your performance specialist will help you with the following essential employee performance resources.
Performance appraisals
Rewards programs
Recognition programs
Compensation plans
Incentive plans
Climate surveys
Competency definition
Organizational development
Training and Development for HR professionals
Develop your HR employees through our HR leadership coaching programs
Leadership development programs
Leadership consulting
Culture Building
Create and foster a positive working environment with our tailored, strategic recommendations for your organization. The heightened emotional connection your employees will feel toward your company will directly impact productivity, efficiency and morale.
Team building
Vision
Values
Mission
Climate surveying
HR Brochure
Download our brochure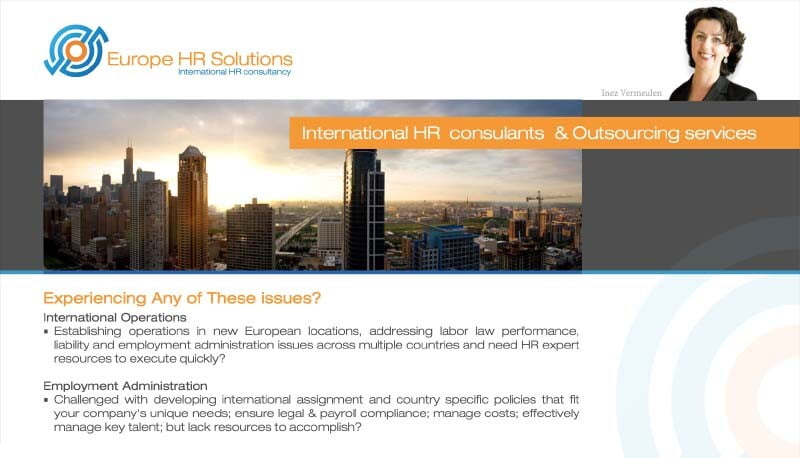 Our Brochure
Learn more about the services offered by Europe HR Solutions.