Performing a comprehensive HR audit is one of the first steps in outsourcing your Human Resources tasks to an outside company. It is also essential for US companies that are expanding to Europe.
HR audit services in Europe for US companies are important because they provide several key pieces of information:
A baseline of your current operations
Any gaps in your current HR strategies
Areas in which you are noncompliant with local or national laws
Redundancies and inefficiencies in your workflow
Audits are useful for every business, from small to large. However, they are especially important for US companies that are in the process of expanding to include European operations.
Europe HR Solutions provides a comprehensive HR audit to help your US company launch in Europe
We provide an HR audit that will help you prepare for your expansion from the US into Europe.
Our audits are performed by experienced, highly trained human resources professionals who work with US and British companies that are expanding into mainland Europe. The potential for costly mistakes when running an international operation is high; a strong HR audit can help you strategize for your expansion.
The human resources profession has developed a thorough, detailed process for conducting HR audits. This process takes time in all three stages: the planning stage, the audit stage, and the analysis stage.
This next section provides a simple overview of the most common steps in the process. Note that each of the three stages includes several steps.
Stage 1: Planning the audit
You can't conduct a strong audit without a strong planning stage.
At this point in the process, your goal is to determine what you need your audit to cover, who is going to conduct the audit, and what data you need to prepare before the audit takes place.
Choose your audit team
Technically, you can conduct an audit on your own. We don't recommend it because we have seen what happens when an insufficient audit is completed by someone who doesn't have enough experience in HR – especially European HR. It gets messy, complicated, and expensive to fix.
Even if you make the smart decision to outsource your audit, you still need people in your organization to serve as part of the audit team.
Consider including:
Someone from your HR department
In-house legal representative
Subject matter experts for your industry
Someone from the Mergers & Acquisitions team (if you have one)
An executive team member with extensive knowledge of the company
Determine the scope of your audit
There are many kinds of audits, and your process may include one or more of them. They include:
Corporate structure audit
Overall compliance assessment
Preparation for corporate restructuring
Mergers and acquisitions
Payroll compliance
Health and safety policies
General payroll audit (wages and salaries)
Worker data privacy audit
Corporate social responsibility/ethics audit
Supplier compliance
Labor practices audit
Employment law compliance
Industry-specific issues
Immigration compliance issues
Compliance with all registration forms
Liability audit
Create checklists–lots of checklists
Even though there are some business operations that are very similar in both the US and Europe, there are many, many differences that will affect your day-to-day operations. Checklists are going to help you determine just how many of those US-to-Europe changes you need to be aware of.
After determining the scope of your audit, you will need a checklist of all the rules related to each aspect of the checklist.
You might find some generic checklists online, but we recommend creating an entirely new document that is specific to your company's expansion into Europe.
One great strategy is to create a master checklist that can be divided into multiple sub-level checklists. That way, you can provide checklists to the relevant people in your company without weighing them down with the master checklist.
Your checklist will likely include the following:
Corporate tax laws
Insurance rules
Payroll laws & payroll deductions
Mandatory vacation time and PTO (PTO is usually referred to as "leave entitlement" in Europe)
Contract overviews
Local employment laws
Benefits and compensation offerings
Incentive plans for employees
Tuition benefits
Collective labor laws and collective bargaining agreements
Laws related to recruiting, interviewing, onboarding, overtime, etc
Discrimination, harassment, and diversity rules
Procedures in the event of accusation of discrimination against any protected identity groups
Laws related to required local languages
HR policies for internal employment complaints
Procedures for internal investigations
Whistleblower protections
Management of labor disputes
Works agreements with the European Works Council 
Reduction-in-force policies
Laws governing headquarters locations
Pension and retirement laws
Mandatory cost of living/inflation-adjusted raises
Severance pay policies
Succession planning
Employee handbook rules
Local laws regarding information posted in the workplace
Global crisis/pandemic plans
Security protocols
Ethics guidelines for employees
Contract language compliance
Adherence to data privacy laws for employee data
Policies for notifying employees of a data breach
Contractor laws
Immigration policies
Expatriate compliance
Duty of care protections for business travel, personal injuries, etc.
Compliance with overseas supply chain labor monitoring
Adherence to the UK Modern Slavery Act 2015 (if your expansion includes a UK presence)
This is not a comprehensive list, but it does give you a good starting point of many of the things you need to consider for your HR audit.
For each of these issues, create a smaller checklist that includes things like conducting research to find all relevant European and country-specific laws, appointing a team member to oversee the area, and determining what metrics will be used to measure success.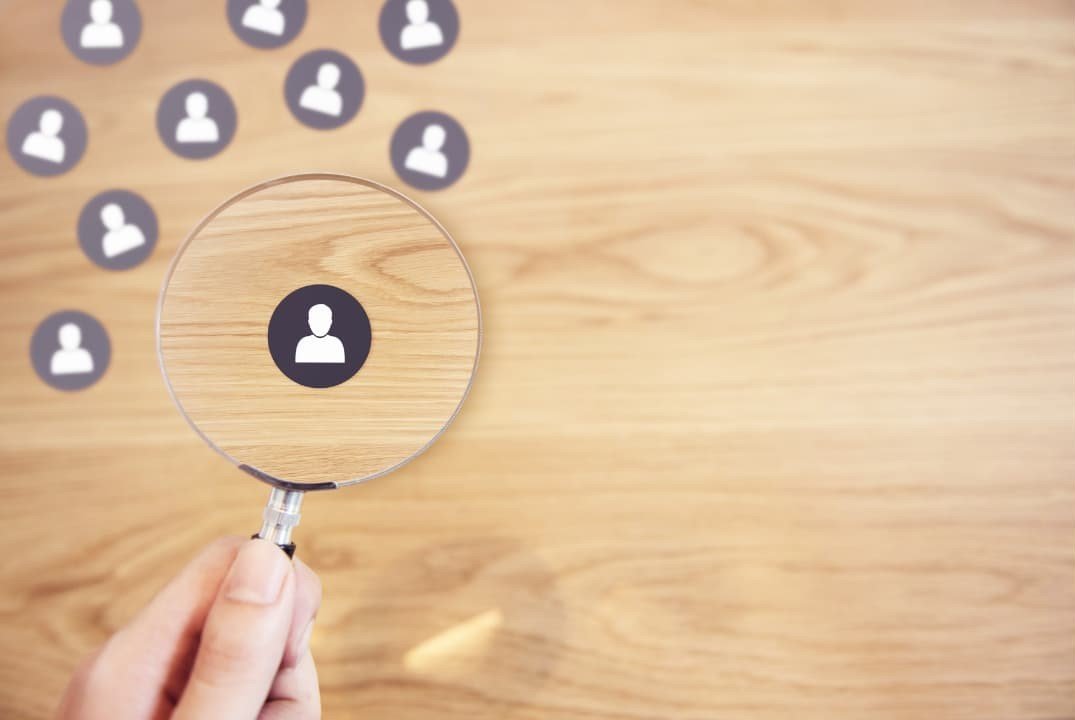 Stage 2: Conduct the audit
Stage 1 is pretty intense, but Stage 2 is where the work gets really granular and labor-intensive. 
If you work with an auditor like Europe HR Solutions, we will already have all of the latest information about European laws, including EU regulations and country-specific laws–and how those are different from the US. 
What we will need from you is access to your existing policies and company data. 
Conducting this audit independently comes with a number of risks. 
First, you may miss something small but important. Small mistakes can put you out of compliance with European authorities, which in turn jeopardizes your expansion into Europe. 
Second, non-compliance is expensive. Data protection non-compliance on its own was a source of major fines for companies operating in Europe. At the top of the list of the biggest fines was Meta, which was fined €405 million for data privacy violations in Ireland. Many other companies saw fines that were in the €10-20 million range. 
Third, and finally, an ill-prepared audit may make you unprepared to keep up with your European competitors. Even if you don't get caught by the European authorities for your mistakes, there will be people who notice. You will lose out on prospective employees, contracts, and more because you are not doing what is expected of European employers. 
Stage 3: Analyze the audit
Completing the audit without analyzing the results is like cooking yourself a delicious meal – but not eating it.
You have worked so hard to gather the required information, collect data, research policies, and answer complicated questions. Now you have to do something with the information that you have gathered. 
The analysis stage is all about identifying what is working well and what needs to change so that you can develop a series of action plans. 
Consider these questions as you analyze your HR audit: 
What are we doing well, and how can we make sure that we continue to perform well in these areas?
Which policies are completely absent and therefore need to be created from scratch?
Which policies need to be revised in order to be compliant with European and country-specific laws?
What is our time frame for completing these revisions?
Who is our point person for each policy change?
Trust Europe HR Solutions to Conduct an Outstanding HR Audit
At Europe HR Solutions, we perform thorough and detailed HR audit services in Europe for HR companies for our clients who are expanding into Europe. 
Navigating the labor law landscape in Europe isn't easy, and you don't have to try to do it on your own. 
When you trust our experienced, knowledgeable human resources professionals to perform this audit, you get the benefit of working with a team that already knows the ins and outs of European labor law – including the laws in each country where you might be expanding your operations. 
Our auditors give you the chance to focus on growing your business instead of feeling stressed and overwhelmed about the complex compliance issues of operating in Europe. 
Contact us for a free consultation!
HR Brochure
Download our brochure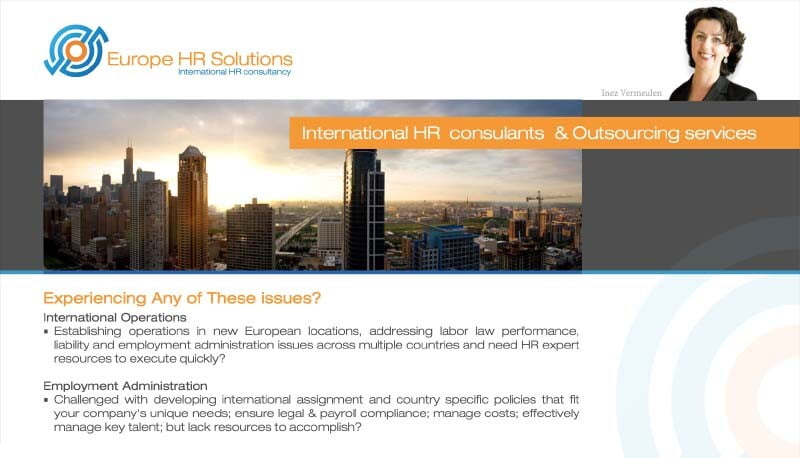 Our Brochure
Learn more about the services offered by Europe HR Solutions.