As a startup ramps up operations, undergoing a comprehensive HR audit should be a top priority. While young companies are focused on growth, an audit can identify gaps that need to be addressed early on. An HR audit will position your European startup for success down the road.
Outsourcing the audit lifts the burden off an internal team and provides you with an objective assessment. An experienced auditing firm like Europe HR Solutions will benchmark your current HR strategies against industry best practices to find areas needing improvement. We will also pinpoint where the startup may be non-compliant with employment laws and regulations.
Key areas an HR audit covers for startups:
Evaluating existing policies and procedures
Assessing compliance with labor laws
Identifying inconsistencies in the hiring and onboarding processes
Reviewing compensation structures for fairness
Determining the need for additional HR staff
By taking a proactive approach with an HR audit, startups in Europe can correct issues early –  when it's more affordable. We will also reduce potential legal risks from being non-compliant. Investing in an audit sets up startups for scalability as operations grow.
Outsourcing your HR audit to Europe HR Solutions is a smart way to build a solid HR foundation.
Europe HR Solutions: Providing HR Audits for Startups in Europe
We love working with startups.
When we work with a young company in Europe, we are excited to see it develop from the ground-up.
As a small operation ourselves, we understand the unique HR challenges facing startups – especially those with an international presence.
Launching a startup in Europe comes with unique HR challenges. As a young company scales rapidly, gaps in policies and compliance can emerge. An HR audit provides startups the insights they need to build a solid HR foundation and avoid pitfalls as they grow.
Europe HR Solutions understands the HR landscape facing startups. Our team has guided numerous startups entering the European market across various industries. We appreciate the growing pains startups experience and tailor our audits accordingly.
Our audits benchmark startup HR practices against industry standards to spotlight areas for improvement. We evaluate talent acquisition strategies, workplace culture, and retention initiatives, as well as full compliance with European and national labor laws.
The startups we partner with tap into our specialized expertise in European HR regulations. We become an extension of a startup's team, assessing their needs and providing targeted recommendations. 
Our collaborative approach aims to position startups for future success. Investing early in an HR audit establishes a solid foundation for growth.
Understanding the HR Audit process
Conducting a rigorous HR audit involves careful planning, thorough execution, and thoughtful analysis. Our team of professionals approaches each audit in three key stages:
Planning Stage
Assembling your "audit team"
Identifying the audit's  scope, goals and timeline
Reviewing relevant HR documents and data
Developing audit methodology and tools (AKA: Checklists)
Execution Stage
Conducting interviews with leadership and staff
Comparing existing policies to the laws in each country where you plan to operate and the EU
Assessing policies, procedures and systems
Analysis Stage
Compiling results into a comprehensive report
Benchmarking findings against industry standards
Identifying areas of noncompliance and risk
Providing strategic recommendations for improvement
Presenting audit findings to leadership
Although they are condensed here, our full audit process is quite extensive, ensuring every aspect of HR management is thoroughly evaluated. We tailor the specifics of each stage to match the startup's unique needs and situation.
Let's take a closer look at those three stages.
Stage 1: Planning the HR audit for startups in Europe
You can't start the audit until you have thoroughly planned it.
In this stage, you will determine the best individuals to be involved with your audit, the appropriate scope of the audit project, and what information you need to collect.
Choosing the audit team
Although some companies do their audits internally with PDF checklists they found online, we don't recommend this strategy. We have seen what happens when startups try to do this on their own: expensive mistakes, costly fines, and a laborious process that takes longer than it should.
HR in Europe is complicated, and it requires meticulous attention to detail and extensive legal knowledge. Unfortunately, when inexperienced executives or HR representatives attempt to spearhead an HR audit, the end result can be costly, time-consuming, and messy.
That said, when you choose to outsource your audit process, that doesn't mean we cut you or your organization out! Instead, we work closely with representatives from your company. The relationship between your startup and our HR team is a vital one in the audit process.
Our recommendation is to include the following individuals as part of your audit team:
A rep from your HR department (If you have outsourced your HR services to Europe HR Solutions, we'll take care of this part.)
In-house or outsourced legal rep
Subject matter experts in your specific industry
Mergers & Acquisitions rep (if applicable)
A company executive who with extensive knowledge of the company's history and goals
At startups, it is not uncommon for people to work in multiple roles. That's okay! This group can be made up of as many or as few people as you want.
We are happy to tackle as much of this audit as you need us to, including everything from start to finish. This prevents your hardworking team from shouldering a heavy workload. Focus on launching and starting your startup instead of worrying about compliance.
Tips for determining the scope of your audit
Not all audits look the same.
Compliance audits, for example, focus on policies and legal compliance issues. Workplace satisfaction audits, on the other hand, collect data about how your employees feel about their jobs and workplace. If you hear concerns about wages and benefits in a workplace satisfaction audit, that may trigger a compensation audit to compare yourself against your competitors.
These are some of the audits
How to determine the scope of your audit
Small businesses can conduct a number of different kinds of audits. In fact, it may be easier to think of these as "sub-audits," which make up a more complete audit.
Here are some of the sub-audits you can select, depending on your company's specific needs:
Corporate restructuring prep
Payroll compliance
Corporate structure
Supplier compliance
Mergers & acquisitions prep
Registration form compliance
Employment law compliance
Immigration compliance
Industry-specific audits
Wages & salaries
Health & safety policies
General compliance
Liability
Labor practices
Worker data privacy
Corporate social responsibility (ethics audit)
Creating checklists
Who doesn't love a good checklist?
Audit checklists will help you generate a comprehensive overview of everything you need to do to complete the audit. You don't have to generate these checklists on your own; our internal HR audit process moves us through these steps on your behalf. We will always help you see how the process is broken into manageable steps. 
A checklist's responsibility is to create a process for gathering information about a variety of policies and procedures. 
They will likely cover areas like this: 
Local employment laws
Recruitment laws
Interviewing and onboarding
Contracts
Corporate taxes
Insurance
Payroll & deductions
Benefits and compensation
Mandatory vacation time & leave entitlement (PTO)
Overtime rules
Tuition benefits
Employee incentive plans
Pension and retirement
Collective bargaining agreements
Anti-discrimination and harassment policies
Diversity rules
Laws related to use of local languages
Internal employment complaints
Procedures for internal investigations
Whistleblower policies
Labor dispute management
Severance policies
Reduction-in-force (RIF) policies
European Works Council agreements
Succession planning
Employee handbooks
Posted information in the workplace
Global crisis & pandemic plans
Security protocols
Ethics guidelines
Contractor guidance
Data privacy laws
Policy for notifying employees of data breach
Immigration policies
Expatriate compliance
Duty of care protections for business travel
Overseas supply chain labor monitoring
Cost of living and inflation-adjusted raises
Headquarters locations
Importantly, this list is not comprehensive. There may be other things that are unique to your industry or location that need to be addressed. However, we hope it gives you a good understanding of just how many areas can be assessed by an HR audit.
Our auditing team at Europe HR Solutions provides country-specific guidance depending on where you operate. 
Stage 2: Conducting the HR audit
This is where we really get to work!
Most startups are categorized as small businesses, which means you may not have the bandwidth to go through these checklists on your own.
If you are running the audit on your own, you will start going through all of your checklists, evaluating your operations from top to bottom as you go. If we are running your audit, then we do all of that work for you, asking you for information and data along the way. 
Additionally, you need a lot of knowledge of international HR and European laws. Even when you are running a small business, gathering and comparing information about your company to European standards is time consuming and complicated. 
Your Europe HR Solutions auditor will go through this information much faster. 
In addition to saving time, outsourcing your audit helps you avoid these risky situations: 
Missing something small but important that ends up jeopardizing your EU operations
Facing expensive non-compliance fines (Like when Meta was fined €405 million for data privacy violations in Ireland, and other companies faced fines in the range of  €10-20 million.)
Operating with poor data, which hinders your ability to make data-informed decisions
Stage 3: Analyzing the HR audit
Once you have collected all of this information, it's time to turn this info into action steps. After all, with all the work that has gone into your audit, it would be wasted time to stop without creating an action plan. 
As a review, here is what we have already accomplished for your HR startup audit: 
Assembled a great time of in-house and outsourced professionals
Determined the area of your startup that need to be evaluated
Gathered extensive info about your company, finding gaps and oversights 
Now let's use that information to create a great HR strategy that will strengthen your startup's operations, policies, and procedures. 
Your audit analysis phase will include questions like these: 
What is your startup doing well? How can you continue to thrive in these areas?
What policies is your startup completely missing? 
What policies need to be revised for compliance with EU and nation-specific regulations?
When do you need to complete any changes to your HR strategies?
Who is the responsible party for each change? 
Europe HR Solutions: Offering actionable HR audits in Europe for startups
Our multilingual and experienced team at Europe HR Solutions performs high-quality, comprehensive, and actionable audits for startups in Europe. 
We understand that navigating labor laws and other regulations in Europe isn't easy, especially for startups. You do not have to do this on your own. 
Trusting our dedicated, thoughtful team of HR professionals to audit your startup means that you receive: 
A dedicated contact at Europe HR Solutions who will guide you through the process and prioritize a communicative relationship with you
Representatives who know European laws inside and out
Multilingual expertise, which creates smooth communication between you and your European employees, contractors, and more
Our HR auditors give European startups the opportunities they need to focus on establishing themselves in the European and international market. Instead of being overwhelmed by compliance and HR issues in Europe, you can focus on growth. 
Contact us for a free consultation! 
HR Brochure
Download our brochure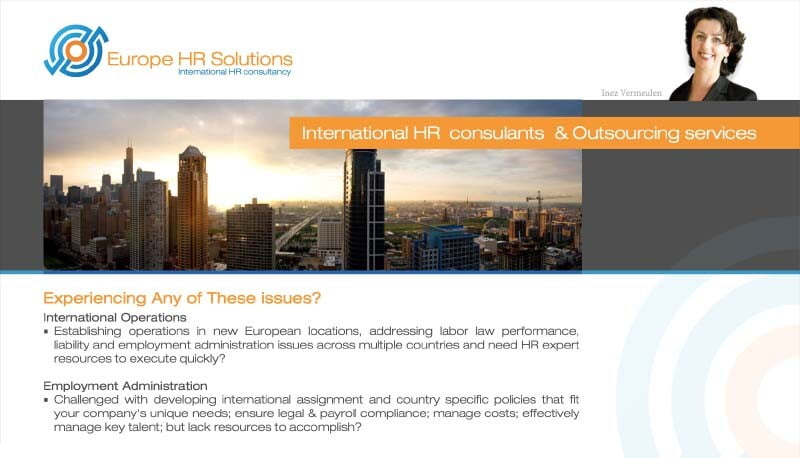 Our Brochure
Learn more about the services offered by Europe HR Solutions.