Mid-size businesses often find themselves at an exciting place in their growth. With a significant revenue base and a thriving workforce, these businesses are often celebrating their success while looking forward to more growth. 
If your mid-size business has been operating in Europe, you are likely already familiar with many aspects of European HR rules and the regulations of the country (or countries) where you operate. 
However, gaps in your HR policies can have a negative impact on your growth. Your ability to be competitive in the European marketplace is dependent upon building a great workforce – and you can't do that without exceptional HR policies. 
Europe HR Solutions offers comprehensive HR audits for mid-size businesses that are designed to help you strengthen your operations, identify trouble spots, and maintain complete compliance with European and national laws. 
Why mid-size businesses should consider an HR audit
HR audits provide: 
Current operational baselines for growth
Identification of any holes in your current methods
Essential information about non-compliance with national and European laws
Actionable data on workflow redundancies and inefficiencies
Meaningful analysis of employee satisfaction 
Chances are, your mid-size company needs this information to grow. Contact us here at Europe HR Solutions to perform this audit. We will prepare you for what comes next in your business's story. 
Essential information about Europe HR Solutions' audits
Here is what you need to know about our audits:
Our team is made up of highly trained and experienced HR professionals
We're multilingual, too, ensuring clear communication between you and any international connections
We prioritize your needs first and foremost
HR audits are complicated, and we know how to make them work for you
We can do a comprehensive audit or we can do an audit of any specific area of your business
Our central goal is to help you thrive as a business operating in Europe. Contact us to learn more about our specific process and how we can give you valuable information.
The three stages of an audit: Plan, audit, and analyze
HR specialists have developed a number of ways to conduct audits. However, most HR audits consist of the same basic formula: a planning stage, a stage in which you conduct the audit, and an analysis stage.
Let's go through some of the ways you can approach an audit. Take note of these strategies and let us know which aspects feel the most important to you. Our process is shaped by your company's needs, so we are happy to provide you with a customized audit plan that incorporates your suggestions.
Stage 1: Planning the audit
The audit planning stage sets you up for success. Without this part of the process, nothing else will take shape.
Some of the most important aspects of planning the audit include:
Identify the need for an audit and understanding what problems you are hoping to solve
Decide who is on your audit team (in-house HR, outsourced HR, legal representatives, subject area experts, administrative support team members, etc.)
Determine the scope of the audit
What kind of audits can we conduct? 
Determining the scope of the audit is, essentially, deciding what kind of audit(s) you want to choose.
Here are some of the audits and sub-audits that we can conduct on your behalf:
Corporate structure
Corporate restructuring prep
M&As (Mergers & Acquisitions)
Industry-specific audits
Payroll compliance
General payroll audit (including wages and salaries)
Labor practices
Immigration compliance
Registration forms
Worker data privacy
Corporate social responsibility & ethics
Supplier compliance
Liability audit
The value of a good checklist
Checklists are a great way to organize information and make an action plan.
We use a series of our own checklists to stay on track with our audits. If you want, you can even create your own checklists, or we can provide you with helpful checklists to help you know what to expect.
Can you just use a checklist you found online? We recommend starting from scratch or with guidance from an HR team who understands your business and your unique needs. Mid-size businesses need a different strategy than start-ups and small businesses, just as companies undergoing a Merger & Acquisition need different audits than a company that is just thinking about expanding into Europe.
 A cookie-cutter approach to HR will always be less successful than a customized one.
What kind of checklists should you create? 
We often recommend creating a master checklist that will be divided into many different sub-checklists. This is an especially good strategy because you can divide the subtasks among multiple representatives in your office with expertise in that area.
At this stage in the process, you aren't really collecting information about your own company. Rather, you are creating a guide to what you need to find in the audit. Track down information about each specific category and identify its rules and regulations so that during the audit, you can compare your current practices against what you need to be doing.
For categories that aren't mandated by law, you can find best practices to follow.
Topics that may be covered in these checklists include:
Contracts
Insurance
Local laws in cities where you conduct business
Corporate tax laws
Payroll deductions
Payroll policies
Leave entitlement
Benefits and compensation
Tuition benefits for students
Employee incentive plans
Rules related to discrimination and harassment in the workplace
Response to accusations of discrimination against protected groups
Diversity, Equity, and Inclusion (DEI)
Recruitment strategies
Interviewing processes
Onboarding procedures
Overtime
Severance pay
Procedures for internal investigations
Response to employee complaints & formal investigation procedures
Whistleblower protections
Collective labor law compliance
Collective bargaining agreements
Policies for managing labor disputes
Pension and retirement
Works agreements with the European Works Council
Headquarters
Succession planning
Mandatory cost of living and inflation-adjusted raises
RIF (Reduction-in-force)
Content for employee handbooks
Security protocols
Contracts
Pandemic & global crisis plans
Data privacy laws for handling and protecting employee data
Notifying employees of a data breach
Working with contractors
Immigration policies
Visas and permits
Expatriate compliance
Duty of care protections for personal injuries on the job
Duty of care protections for business travel
Compliance with overseas supply chain labor monitoring
Modern slavery due diligence (similar to the UK Modern Slavery Act 2015)
Even though this isn't a comprehensive list, it should give you a great starting point for many of the areas in which your company operates.
Stage 2: Conducting the audit
Stage 1 was a lot of work, but stage 2 is where the magic happens. This is where we do a deep dive into how your mid-size business operations compare to what is required by law or what aligns with best practices for your industry.
At Europe HR Solutions, we take care of all of this. We communicate with your audit representative or committee and learn about everything your company does. Where there are gaps in your policies, we identify them. We pinpoint things that are going well and drill down the reasons for things that aren't going well.
When you outsource this process, it cuts the audit time significantly, because we know exactly what we're looking for and how to compare.
Some companies may throw out the idea, "Oh, we'll just save money and do the audit ourselves." We would never discount the value of an internal HR audit, but we also know that trying to "DIY" your audit process will end up costing you in the end.
The risks of self-auditing your mid-size company include:
Missing little details that are incredibly important, simply because you lack experience and knowledge
Wasting your valuable time on the audit, thus falling behind in other important areas of your work
Non-compliance with European authorities, which jeopardizes your growth
Costly fines related to non-compliance issues
Non-compliance is going to cost you money. Just ask Meta, who was recently fined €1.3 billion for issues related to data handling, and another €405 million for its poor handling of children's data on Instagram.
Mid-sized companies have faced fines in the range of €20-40 million. Obviously that is an almost unthinkable amount that can spell the end of your business as you know it.
Stage 3: Analyzing the audit
The analysis stage may be the most important part of the process, because without this stage, all the work you've put in is meaningless.
This stage provides you with an excellent foundation for identifying what is going well and what you need to change about your operations.
These questions will guide you through the analysis stage:
What did the audit reveal about the company's strengths, and how can you continue to build on these areas?
In what ways does the company face non-compliance liability?
What policies need to change or be created in order to become fully compliant?
What is the appropriate timeline to make these changes?
Which individuals or departments need to be tasked with making changes based on the audit's findings?
Your HR audit from Europe HR Solutions will make your company stronger
Europe HR Solutions offers comprehensive or small-scale audits that will help your mid-size company reach its next stage of growth.
We can help you navigate the complexities of European labor law, workplace culture, and societal expectations of your role as a mid-size business operating in the EU.
Instead of struggling through the audit process on your own, trust our experienced, knowledgeable, and multilingual HR professionals to perform your audit for you. We provide thorough, detailed, and comprehensive audits to our clients so that they can focus on growth.
Our auditing team works hard to give you a prompt, professional audit of all the areas of your mid-size business that you want to explore. We can also provide additional HR consultancy services that meet your needs.
Contact us for a free consultation to learn more!
HR Brochure
Download our brochure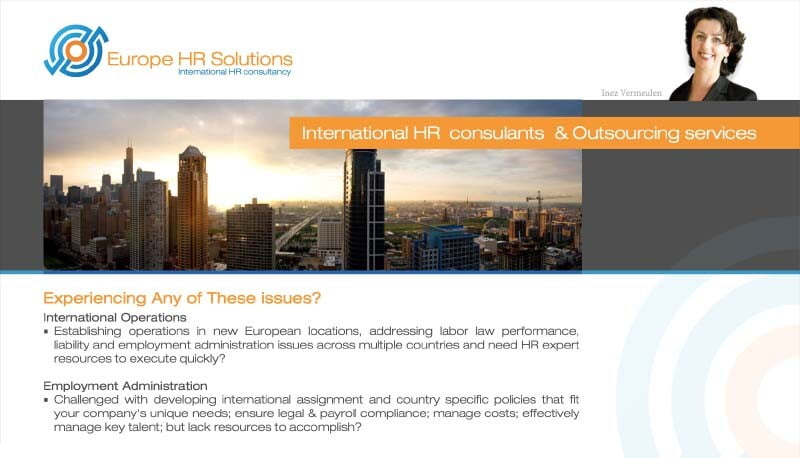 Our Brochure
Learn more about the services offered by Europe HR Solutions.